Why Are There So Few Women Musicians Among the American Music Awards Nominees?
Julia Michaels, Shakira, Christian singer Lauren Daigle, and country group Little Big Town are the only women nominees in categories not exclusively "Female."
---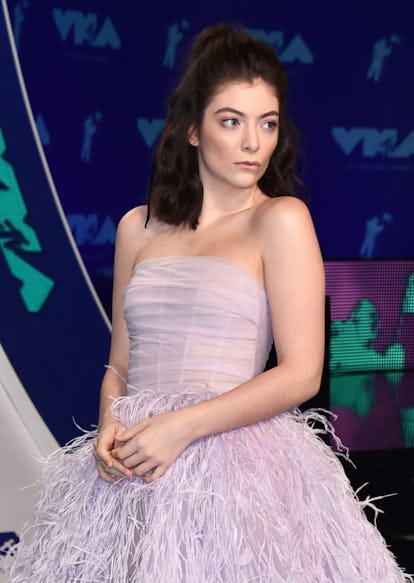 Alberto E. Rodriguez
The jury has spoken, and the nominees are in: The American Music Awards have determined just three solo women artists—four, if you include the country group Little Big Town, which includes founding members Karen Fairchild and Kimberly Schlapman—are worthy of nominations in categories not explicitly designated "Female Artist."
On Thursday morning, Ciara appeared on Good Morning America to announce the nominees in the top six categories of this year's AMAs. For "Artist of the Year," nominees include The Chainsmokers, Drake, Kendrick Lamar, Bruno Mars, and Ed Sheeran; for "New Artist," James Arthur, Niall Horan, Julia Michaels (the lone woman artist among these newcomers), Post Malone, and Rae Sremmurd; Drake, Mars, and Sheeran are all nominated again for "Favorite Male Artist—Pop/Rock", while Alessia Cara, Lady Gaga, and Rihanna are all included in the "Favorite Female Artist—Pop/Rock" category.
Then, on the same show, Halsey, who was nominated for "Collaboration of the Year" and "Favorite Song—Pop/Rock" for "Closer," the Chainsmokers track on which she features, took the stage to play "Bad at Love," a cut from her newest album, Hopeless Fountain Kingdom.
But almost as soon as Halsey departed the stage, she was on Twitter, sounding off on the nominees and calling it a "missed opportunity": "So many incredible female artists have released this year," she wrote. "Hoping the coming award shows give them the credit that is due to them." (It's worth noting, too, that Halsey was nominated for her collaboration with a male producer duo that came out just shy of a year before Hopeless Fountain Kingdom debuted this summer.) Another Twitter user called the awards the "American Men Awards"; one of Halsey's followers simply wrote, in all-caps, "TELL THEM."
It has been a strong year for women artists. Lorde came back with Melodrama, Lana Del Rey with Lust For Life, and Haim with Something to Tell You. Upstart rapper Cardi B became the first woman rapper to top the Billboard Hot 100 with a solo track since Lauryn Hill's "Doo Wop (That Thing)" in 1998, and now at three weeks on top of the chart, "Bodak Yellow" has now held the top position for the longest period of any woman rapper in the history of the Hot 100. Taylor Swift began her comeback cycle and St. Vincent will release her fifth solo record Friday. Selena Gomez, Demi Lovato, Katy Perry, Miley Cyrus, and Camila Cabello—all reliable mainstream nominees—also put out new music this year.
Yet none of this is reflected in the AMAs nominees whose names were announced Thursday. Though the artist of the year awards for country, pop/rock, and soul/R&B are all divided by gender, the alternative rock and rap/hip-hop categories are not, meaning there isn't even the assured representation of women artists by separating them into their own category in those genres. In the award categories that aren't divided by gender, it seems, the AMAs have opted to include almost exclusively male artists and groups fronted by men among this year's nominees.
First held in 1973, the American Music Awards operate in an odd way, purportedly basing nominations on an obscure alchemy of "key fan interactions," including sales, streaming and radio play, and social media activity. Though it's a bit more transparent than, say, the murky biases of the recording academy for the Grammys, it still, evidently, does little to ensure the nominees reflect the diversity of musicians working right now. This means that not only is the crop of nominees stunningly homogeneous—it also means some of the artists listed have not even put out music within the past year. For example, Rihanna's Anti came out in January 2016 (though it continues to dominate the dance charts; "Desperado" became her fifth number-one track of the year just last week). Rihanna has been nominated for "Favorite Female Artist—Soul/R&B" for the past two years, and this year, she adds "Pop/Rock" to that list—because, frequently, artists of color end up being designated either R&B or hip-hop, regardless of their sound. Twenty One Pilots, nominated for "Favorite Artist—Alternative Rock" (a category they won last year), released their last album, Blurryface, in 2015.
Unlike the Grammys or the Oscars, there is not an aging, un-diverse set of industry voters to blame for these discrepancies. Yet an outmoded nominating system does not excuse the near-total exclusion of women (and gender-nonconforming) artists among the AMAs' nominees. All it does is simply serve to explain why—and it's not enough.
Margot Robbie is here to show you what vegemite sounds like: