Is Ariana Grande's New Perfume Dedicated to Pete Davidson, or Does She Just Like Clouds?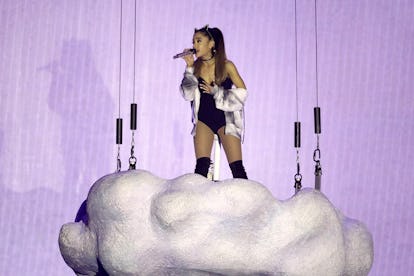 ullstein bild
Ariana Grande and Pete Davidson's relationship continues to move at such breakneck speed that there's a whole subset of sleuths and conspiracy theorists on the Internet hell-bent on uncovering some sort of evidence either that the relationship began long before we knew or that there's some other missing piece out there that might bring clarity to the whole speed-of-light affair. (Seriously, Grande has even recorded a new interlude called "Pete" for her upcoming album, Sweetener, to commemorate the relationship.)
The latest piece of evidence the Grande-Davidson truther crowd has zeroed in on is Grande's upcoming perfume. The scent doesn't yet have a name, but it does have a bottle design. Grande tweeted out a preview of the bottle on Twitter, and the shape is notable for multiple reasons. Grande's first of four related scents came in a snowball-like bottle with a fluffy pom-pom attached. This one, however, takes the shape of a cute little cloud floating above another cloud. Grande only explained the image, appropriately, with a cloud emoji.
Some are convinced that the bottle design is an expression of her love for Davidson. The pair got matching cloud tattoos on their middle fingers in the early days of their relationship (read: a few weeks ago). They've also both been spotted with the same cloud-shaped iPhone case, designed by the Pharrell Williams–approved art collective FriendsWithYou. The two have also commented on and captioned various Instagram posts with the same cloud emoji again and again. Some have even connected the clouds to the couple's mutual love for Harry Potter, because, you know, there are clouds in that movie.
Seems like a pretty believable argument, and yet, here's the thing: Celebrity fragrance lines are a very lucrative business. This new bottle represents a major expansion of Grande's own scent offerings, and these things aren't just created and dumped on the market in a matter of weeks based on a celebrity's own whims and recent personal developments. Every crucial building block in a burgeoning perfume empire takes months, if not longer, to consider, develop, and launch.
Which may lead one to believe that perhaps Grande and Davidson have a longer history than we know.
It could also lead less conspiracy-prone minds to consider the fact that maybe Grande just really likes clouds.
"Head in the clouds," after all, are the first lyrics in the pre-chorus of Grande's 2014 breakthrough single, "Problem." It's a line she liked so much that she developed an entire line of merch around it.
During her 2015 Honeymoon tour, Grande also soared above the stage on a replica cloud.
In 2016, Grande posed for some pictures with her brother, Frankie, in a faux cloud.
Interestingly, The Divine Feminine, the album by Grande's ex Mac Miller supposedly inspired by her (though Grande recently claimed it was only partially inspired by her), also features cloud imagery on its cover.
She's also posted Instagram photos of nothing but clouds.
Like, there are a lot of images of just clouds on her Instagram. More than there really ought to be.
And she once promoted a preview snippet of a collaborative song with ex Big Sean set to a video of nothing but clouds.
So it seems that Ariana Grande just really, really loves a cloud, and it's a love that transcends her various relationships. They seem like a natural choice for her next fragrance bottle inspiration.
Besides, it's not exactly like Davidson and Grande are being shy about their relationship. Why would they send hidden messages through product design? Sometimes a girl's lifelong love of clouds is just a girl's lifelong love of clouds.
Related: Ariana Grande and Pete Davidson: A Quick Timeline of Their Relationship