The Most Instagrammed Art at Art Basel Miami Beach 2018
From jungle gyms and merry-go-rounds to unabashed genitalia.
---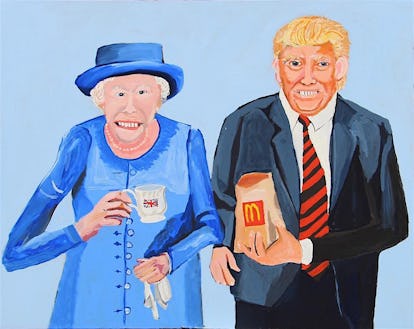 Vincent Namatjira, courtesy of @artbasel
As Leonardo DiCaprio appears to have proven at the 2018 edition of Art Basel Miami Beach this past week, the fair (and its myriad satellites) has something for everyone—and we're not just talking about its extremely specific types of parties, pretty much all of which end up widely attended. As for the actual art on view, there's no shortage of options for those who aren't too hungover to look for it—including, for example, a 150-million-year-old, 28-foot-long skeleton of a dinosaur mom along with her baby (and a $2.5-million price tag) of the sort that a 44-year-old Academy Award-winning actor who's deeply passionate about environmentalism, his 21-year-old girlfriend, and dinosaur remains might find extremely appealing.
Indeed, there were no less than 268 galleries at Miami Art Week's main fair there to ensure the needs of every single celebrity, influencer, model, art world figure, and any other potential buyer was catered to by the time its VIP preview rolled around on Wednesday. Twenty-one-year-old Luka Sabbat went above and beyond in doing so, making his artist debut by essentially giving away free money, while the Haas Brothers, Misha Kahn, and Raúl de Nieves (in partnership with Bulgari) all played make-believe with installations that essentially turned the fair into a playground. (Thanks to one Serena Williams, there was even karaoke.)
Artists like Derrick Adams made sure that the fun continued outdoors. And Theaster Gates brought Milan to Miami by shifting his exhibition of photos from the archives of Jet and Ebony magazines, currently on view at the Fondazione Prada, to the house's pop-up club in Miami Beach, whose three-night run attracted guests like Kanye West.
Naturally, the local museums couldn't resist the opportunity to also shine, which the Pérez Art Museum literally did by opening an extremely neon-filled (and therefore extremely Instagrammable) exhibition of José Carlos Martinat. Meanwhile, whereas Paolo Pivi's giant multicolor polar bears at the Bass were a crowdpleaser for toddlers and children alike, Judy Chicago, aka the 79-year-old godmother of vagina art, kept things at bit more PG-13 at the Institute of Contemporary Art, with a genitalia-filled survey to complement a new show of photos at Nina Johnson gallery documenting a series from Chicago's twenties, when she was using multicolored fireworks as ammunition to protest the then male-dominated field of land art.
As usual, though, the real stars of the show were the upstart fairs, whose growing strength in numbers—this year, more than a dozen—has led many to rechristen Art Basel Miami as Miami Art Week. In case you didn't make it to each and every one of them, take in the rest of the highlights via Instagram, here.
Related: The 10 Types of Parties You'll Find at Art Basel Miami Beach