Balenciaga Has Its Own Answer to High-Heel Crocs, of Course
The brand shared a look at them with a garbage bag as the background.
---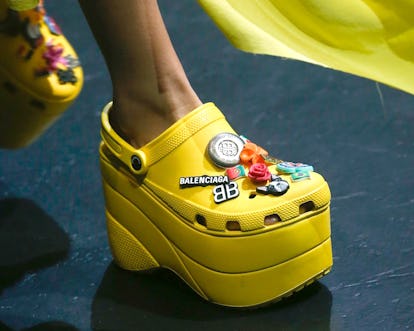 Getty Images
The Crocs debate has just gotten even more divisive. As a pair of high-heel Crocs went viral and, subsequently, sold out, we should note that Balenciaga has put its own spin on the controversial footwear. That's not to be confused with creative head Demna Gvasalia's first iteration of Crocs: a platform shoe that debuted last October during Balenciaga's spring 2018 Paris Fashion Week show.
No, Balenciaga has made yet another pair of Crocs-inspired shoes, instead this time giving the rubber style a stiletto heel. Balenciaga first shared a photo of its hot pink Crocs heels on Instagram on June 29, but gave a much closer look today after dozens of headlines popped up about Crocs' own heeled version. In the first photo posted to Instagram, the heels are too far away from the camera to register that they're indebted to Crocs. In the second look, though, you can see the Crocs high heels in an interesting setting: with a garbage bag as the background, perhaps begging for a metaphoric interpretation.
Like the Balenciaga Croc platforms, the Crocs high heels are loaded with different charms, from the Eiffel Tower to a cat and a shooting star. While the price has yet to be announced, the last pair of Balenciaga Crocs ranged from $495 for a minimal look to $850 for the full embellished version. For comparison, Crocs' high heels sell for less than $50 a pair, and London designer Christopher Kane sold his own crystals-laden collaboration with Crocs for $375 a pair last year.
Of course, this isn't the first time that Balenciaga's design head Gvasalia has taken the seemingly mundane and reimagined it at a higher price tag. Last summer, Balenciaga released a $1,100 replica of a shopping bag, complete with the brand's name spelled out as it appears on its actual shopping bags. Before that, Balenciaga made a $2,145 version of Ikea's iconic 99-cent Frakfta bag, which appeared in Gvasalia's debut menswear show in the summer of 2016. Considering how quickly the platforms sold out, before they were even released—and how fast the actual Crocs high-heels have sold out—interested parties should have their wallets ready for the release.
Related: With a $1,100 Shopping Bag, Balenciaga Keeps Trolling, and the Internet Keeps Falling for It
The Craziest, Most Fabulous Shoes in 2017, from Elf Sneakers to Platform Crocs
Then again, the elf shoes at Loewe shouldn't have come as such a surprise given that Anderson had already debuted these mop-like, macramé-covered shoes at his eponymous label J.W.Anderson's fall 2017 show during London Fashion Week Men's.

Estrop/Getty Images
A trendsetter when it comes to the world of high-fashion Crocs, Christopher Kane returned once again to his favorite footwear, this time lining them with fur for his fall 2017 show during London Fashion Week.

Victor Virgile/Getty Images
Kane also kept things interesting at his fall 2017 show by throwing some kitchen sponges into the Croc pot.

Victor Virgile/Getty Images
Fret not—Kane once again kept Crocs in mind when it came time for his spring 2018 show during London Fashion Week, where he debuted a water shoe-like version of the footwear topped off with glittery gemstones.

Victor Virgile/Getty Images
These fuzzy slippers, which made their way down the runway at Dolce & Gabbana's fall 2017 show during Milan Fashion Week, might just be cute and cozy for us to forgive Stefano Gabbana for all his politically incorrect comments this year. (Emphasis on might.)

Estrop/Getty Images
The reunion of everyone's favorite supermodels wasn't the only showstopper at Versace's spring 2018 show during Milan Fashion Week: As part of Donatella Versace's tribute to her late brother Gianni, she also recreated prints from his era at the house, giving her customers to cover themselves in Marilyn Monroe's face from head to toe.

Victor Virgile/Getty Images
Thom Browne, imaginative as ever, made the case for ice skates as everyday walking shoes at his fall 2017 show at New York Fashion Week.

Estrop/Getty Images
Even those with absolutely no interest in fashion or footwear likely wouldn't be able to stop themselves from gawking at the collaboration between Balenciaga and Crocs that led to a platform edition of the shoe, which debuted at Paris Fashion Week in unapologetically bright in colors like yellow Pepto-Bismol pink, complete with pug faces and avocado accents.

Victor Virgile/Getty Images
Whether they were in hot pink, bright green or purple, the full-length boot-tights hybrids at Balenciaga's fall 2017 show during Paris Fashion Week that are no doubt difficult to slip off have also proven quite difficult to slip from your memory.

Victor Virgile/Getty Images
Though quite tame in comparison to the Crocs, these spiky stilettos that also showed up at Balenciaga's spring 2018 show during Paris Fashion Week are definitely not ones to wear on a crowded subway.

Victor Virgile/Getty Images
What appeared at first glance to be a battered old shin guard from your soccer days on the runway at Balenciaga's fall 2017 show during Paris Fashion Week Men's was in fact a logo-stamped, all-purpose boot hardy enough for those fashionistas who aren't afraid of going on a hike.

Victor Virgile/Getty Images
If there's anything Alessandro Michele has proven in his tenure at Gucci—besides, of course, giving an already storied house even more of a cult following—it's that he has never come anywhere near being a minimalist. These snake-skin boots at Gucci's fall 2017 show during Milan Fashion Week were just a minor detail in comparison to the rest of the collection, which included pearl-covered heads.

Estrop/Getty Images
With Crocs so on the industry's mind, it was only a matter of time before Tevas got a high-fashion, platform makeover, which came courtesy of Rick Owens at his spring 2018 show during Paris Fashion Week.

Victor Virgile/Getty Images
In addition to the show-stopping fur puff balls atop models's heads at Miu Miu's fall 2017 show during Paris Fashion Week, there were also some furry friends to be found on their feet, ranging from bright reds to greens.

Estrop/Getty Images