Bella and Gigi Hadid Wear Matching Pantsuits and 'S' Pins to Premiere of Serena Williams's Being Serena
The sisters are her biggest fans.
---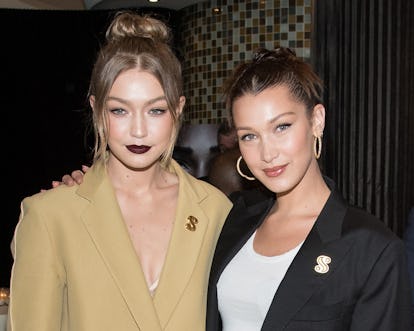 Mike Pont/WireImage/Getty Images
In honor of the premiere of Serena Williams's new HBO docuseries, Being Serena, Bella and Gigi Hadid sported coordinating outfits, including a special tribute to the star of the night. For the event, Gigi wore a tan double-breasted Derek Lam suit with Christian Louboutin pumps and a deep maroon lipstick while Bella opted for an oversize black pantsuit paired with a white top, gold hoop earrings, and Chanel sneakers. The Hadids showed their support for Williams by adding matching "S" pins to their respective lapels.
After the premiere, Williams, who wore simple nude dress, posted a picture with the duo on Instagram. "My ladies. My loves. @gigihadid @bellahadid Thanks for the support. Love you two dearly. And that 'S' pin! Y'all rocked it!!!" she wrote. Bella was equally excited to lend her support to the tennis pro, posting her own picture to social media with Gigi, who just celebrated her 23rd birthday, receiving the "#diddycrop." "Wow…Started crying 20 seconds in—and with that being said—This is one of the most inspiring, emotional, personal, and beautiful documentaries I've ever seen," Bella captioned the photo. "Thank you beautiful @serenawilliams for sharing your journey and opening such a personal part of your life to all of us…you are the epitome of a strong, powerful woman. Truly love you! Olympia is the most beautiful angel! Congratulations."
Previously, Williams has shown her support for Gigi, presenting her with the Glamour Woman of the Year award in 2017. The athlete made the event her first public outing since giving birth, joking during her speech that Gigi was "one of the few people on this planet I would leave my baby for one night."
The docuseries explores Williams's life juggling her pregnancy, marriage, designing her fashion brand, and insane training schedule. The series will air in five parts, with the first episode premiering on May 2.
Related: Bella and Gigi Hadid Did Coachella at a $350,000-a-Weekend Mansion Called Villa Zenyara