As Bella Hadid Share Her Oscar Aspirations, Looking Back At Six Models Who Have Actually Won
From Halle Berry to Brad Pitt, the Academy Awards are fond of a pretty face.
---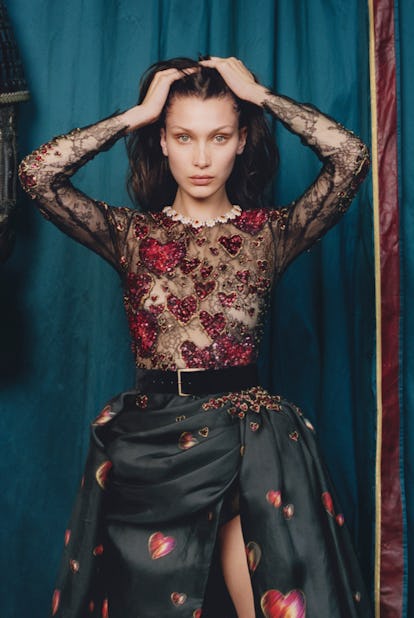 Photographs by Venetia Scott, Styled by Edward Enninful
The venn diagram between modeling and acting became a little bit larger today when news spread that Bella Hadid plans on reigning over both worlds. "I need to start taking acting classes and figure out a way to memorize things better because I have a really bad brain," she told The Telegraph, before specifying her goal in sight: "The Oscar—one day." While that might come as a surprise to those who've watched Bella continuously woo every major fashion house, and then some, it's not necessarily far-fetched. After all, Bella already has one requirement down: She's a natural in front of the camera. Plus, there is a long history of models who've made the transition with poise and accolades. Take a look at some below, who've paved the way for Bella to inevitably complete her global domination with the Academy's seal of approval.
Halle Berry
Long before Halle Berry won the 2002 Oscar for Monster's Ball, she was a runner-up for 1986's title of Miss World. The former pageant queen also won the titles of Miss Ohio and Miss Teen All-American during her competitive years. Not long after, she moved to Chicago to pursue a career in modeling, before landing a breakthrough role in Spike Lee's Jungle Fever. "I had never modeled before," she told The Chicago Tribune after her Oscars win. "I was just doing it because I met a woman [a pageant judge] who said I could, so I said `OK, I'll try it.' Right after high school, I didn't really want to go right to college. I wanted to live a little bit."
Brad Pitt
Modeling was also critical to Brad Pitt's career. Years before he was a staple at the Academy Awards, which have left him with Best Picture Oscar for 12 Years a Slave and five additional nominations including Best Actor for 2012's Moneyball and 2009's The Curious Case of Benjamin Button, he was just a guy in a Levi's commercial. Thanks to the power of the internet, you can watch the ad above, which stars the then-model as a man just freed from prison.
Angelina Jolie
Angelina Jolie might not have started from the bottom—she was born to famous parents Jon Voight and Marcheline Bertrand—but she did start her career early. When she was just 15 years old, Jolie did a photo shoot with photographer Harry Langdon. "Someway or another, she just sort of knew what to do," he later told CNN. "I don't know if it was mental telepathy or what. I can usually see in my imagination a pose that would work and — boom — she kept going into these poses." A decade later, she won Best Supporting Actress for Girl, Interrupted.
Charlize Theron
Out of all the models turned actors, Charlize Theron might have one of the strongest pedigrees. Although she wanted to be a dancer when she was younger, Theron recalled her robust modeling career to T Magazine, saying, "At 16, I won a modeling contest and moved to Milan. Even though I was modeling, I always thought of myself as a dancer. I had the capability to be a bigger model than I was. They were always telling me, 'Lose five pounds and you'll be a supermodel.' But I saw modeling like waitressing — it was a way to pay for another career, and that career was dance." Ultimately, Theron called it quits on dancing. "I went to New York for three days to model, and then I spent a winter in New York in a friend's windowless basement apartment," she recalled. "I was broke, I was taking class at the Joffrey Ballet, and my knees gave out. I realized I couldn't dance anymore, and I went into a major depression. My mom came over from South Africa and said, 'Either you figure out what to do next or you come home, because you can sulk in South Africa.'" Clearly, she figured it out. In 2004, Theron took home Best Actress for Monster.
Mark Wahlberg
Mark Wahlberg was a lot of things before he became an Academy Award nominee, twice-over for 2011's The Fighter and 2007's The Departed. He was a New Kid on the Block, a rapper known as Marky Mark, and, relatedly, a punch line in Clueless. And — those who can recite Clueless verbatim also know that — he was also a very famous underwear model. Wahlberg arguably has Calvin Klein to thank for his career. He was once unmissable in the brand's famed Herb Ritts-shot campaign. These days, however, he's serving as a mentor to Calvin Klein's new crop of models, including Justin Bieber who sent Wahlberg his own CK underwear pics. His reply? "I was like, I am at 45, a dad and a husband, a father of four, I'm trying to move away from that image…I can't say I [haven't] done worse things, but yeah, that wasn't one of my proudest moments."
Cher
Like Wahlberg, Cher turned to modeling while attempting to break into film. After she broke up with Sonny, the pop legend tried her hand at modeling for figureheads like Richard Avedon. "I did modeling, because that was the only thing that I could do to keep myself going," she recalled to Vanity Fair. "My friends were Jack Nicholson, Warren Beatty, Anjelica, Goldie … all these women and men who were working at their prime. And I couldn't take a job. I couldn't do anything." Of course eventually she found a job that led her to an Oscar as Best Actress in 1988's Moonstruck.
Related: Bella Hadid on Fashion Week, Riccardo Tisci, and Why She Hates Burpees
The Beauty Secrets of Supermodels
Bella Hadid Is the Reigning Queen Of Model Off-Duty Style
Bella Hadid is seen walking in Soho on June 30, 2016 in New York City.

Getty
Bella Hadid leaves the 'L'Avenue' restaurant on October 28, 2016 in Paris, France.

Getty
Bella Hadid is seen in Soho on November 14, 2016 in New York City.

Getty
Bella Hadid is seen in Midtown on February 14, 2017 in New York City.

Getty
Bella Hadid arrives at a party on February 28, 2017 in Paris, France.

Getty
Bella Hadid leaves her hotel on March 1, 2017 in Paris, France.

Getty
Bella Hadid is seen on January 21, 2017 in Paris, France.

Getty
Bella Hadid is seen in the East Village on November 18, 2016 in New York City.

Getty
Bella Hadid leaves the 'RIMOWA' boutique in Rue du Faubourg Saint Honore on March 6, 2017 in Paris, France.

Getty
Bella Hadid is seen at Chelsea Piers on March 30, 2017 in New York City.

Getty
Bella Hadid is seen leaving her apartment in the East Village on April 5, 2017 in New York City.

Getty
Bella Hadid seen on the streets of Manhattan on April 5, 2017 in New York City.

Getty
Bella Hadid on a night out at Sexy Fish restaurant in Mayfair on April 19, 2017 in London, England.

Getty
Bella Hadid is seen in the East Village on April 25, 2017 in New York City.

Getty
Bella Hadid is seen the East Village on April 29, 2017 in New York City.

Getty
Bella Hadid is spotted during the 70th annual Cannes Film Festival on May 17, 2017 in Cannes, France.

Getty
Bella Hadid is seen in Chelsea on May 4, 2017 in New York City.

Getty
Bella Hadid is spotted at the Majestic Hotel during the 70th annual Cannes Film Festival at on May 20, 2017 in Cannes, France.

Getty
Bella Hadid is seen in NoHo on May 10, 2017 in New York City.

Getty
Bella Hadid enters a Noho apartment on June 06, 2017 in New York City.

Getty
Bella Hadid is seen at 'L'Avenue' restaurant on June 9, 2017 in Paris, France.

Getty
Bella Hadid is spotted at the 'Majestic' hotel during the 70th annual Cannes Film Festival at on May 27, 2017 in Cannes, France.

Getty
Bella Hadid is spotted at Airport Roissy Charles de Gaulle airport on June 11, 2017 in Paris, France.

Getty
Bella Hadid is seen in the East Village on June 12, 2017 in New York City.

Getty
Bella Hadid seen on the streets of Manhattan on June 13, 2017 in New York City.

Getty
Bella Hadid is seen at LAX on June 21, 2017 in Los Angeles, California.

Getty
Bella Hadid seen out in Manhattan on July 17, 2017 in New York City.

Getty
Bella Hadid is seen in Paris, France, on June 3, 2017.

Getty
Bella Hadid is seen walking in Soho on July 19, 2017 in New York City.

Getty
Bella Hadid is seen on August 26, 2017 in New York City. (Photo by Ignat/Bauer-Griffin/GC Images)

Ignat/Bauer-Griffin