Beyoncé Wrote a Love Letter to the Bey Hive on Her 37th Birthday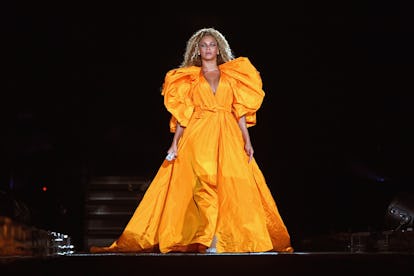 Getty
Beyoncé has a message for all of her adoring subjects. Two days after ringing in her 37th birthday with the help of family and friends, the singer an actress shared a rare message posted to her website, in which she reflected on her whirlwind year by reminiscing about all of the ups, conveniently skipping over any downs.
"At 36, I became a mother of three. I breastfed twins. I renewed vows with my husband of ten years. I came back home to the stage to do Coachella, after pregnancy," she wrote in a post humorously titled "Your Bitch at 36." "Then my husband and I released our album together, Everything is Love. And we've been touring with our whole family around the world, and loving it."
To recap: in the past year, Beyoncé gave birth to twins, Rumi and Sir, last year, unveiling their faces in a Renaissance-inspired photo shoot. She also performed one of the most memorable festival sets in recent memory, and also, quite literally, had the entire Louvre museum to herself as she and Jay-Z filmed a music video for their joint single "Apeshit." "This year has been monumental for me," she (correctly) sums up. "I thank God for everyone in my life. Thank you for all the positivity and for the beautiful birthday wishes. I'm looking forward to continuing to learn from my past, living in the present and surrendering to the future. I love you, Hive."
One recent milestone missing from her message? Her historic cover for Vogue's September issue, which was the first-ever issue of Vogue to be shot by an African-American photographer: Tyler Mitchell, a 23-year-old artist based in New York. "When I first started, 21 years ago, I was told that it was hard for me to get onto covers of magazines because black people did not sell," Beyoncé said in an as-told-to interview. "Clearly that has been proven a myth."
Here's to yet another year of slaying, Bey.