Beyoncé Is Still Facing a $20 Million Lawsuit Over "Formation" Samples
A judge tossed out her legal team's motion to dismiss a suit over her samples of late New Orleans bounce star Messy Mya's Youtube videos.
---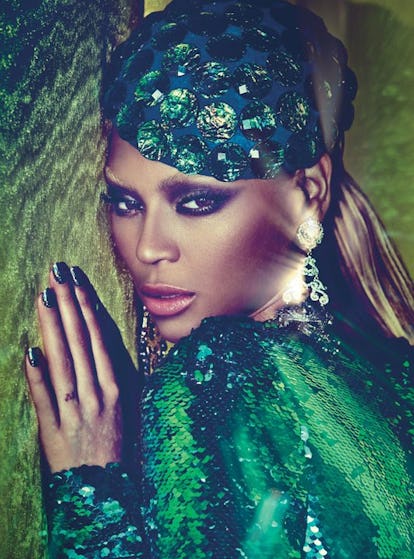 Photographer: Patrick Demarchelier Stylist: Alex White
At the beginning of Beyoncé's 2016 video "Formation," a husky voice murmurs, "What happened at the New Orleans" as the singer, wearing Gucci, crouches to a squat on top of a partially submerged police car. That sample, which kicks off the centerpiece track of Beyoncé's Lemonade concept album, was pulled from "Booking the Hoes from New Wildin," a performance piece by the late bounce rapper Messy Mya—who is now the central figure in a lawsuit his estate filed against Beyoncé, alleging the clips go beyond fair usage. Though Beyoncé attempted to get the suit dismissed, a Louisiana federal judge denied the motion in a ruling announced this Tuesday, the latest setback in the dispute between Beyoncé and the Barré estate.
Mya, who was born Anthony Barré, was murdered in 2010—a crime that remains unsolved—and, in February of this year, Mya's sister Angel filed a suit on behalf of his estate, requesting $20 million in damages and royalties for the series of samples, which also include moments from another piece, "A 27 Piece Huh?," as well as asking for Messy Mya to be credited as writer, producer, composer, and artist on "Formation."
Then, in April, Beyoncé's legal team struck back: "Among its many references to New Orleans, the Music Video used a total of approximately ten seconds of audio from two YouTube videos featuring Anthony Barré—also known as 'Messy Mya'—walking through the streets of New Orleans speaking to the camera and interacting with others along the way," Beyoncé's attorney, Mary Ellen Roy, wrote in a motion to dismiss. According to Roy, the sample's relatively short duration meant it fell squarely under fair use. She added that the "Formation" production company Pretty Bird Pictures had actually licensed the YouTube clips from the Barré family before Angel Barré became the executor of her brother's estate "presumably for the purpose of bringing this action." It was this motion that was dismissed earlier this week, the latest development in the six-month-long battle. (Meanwhile, Beyoncé herself has been laying low since the birth of her twins Sir and Rumi—except, of course, a necessary outing to FYF Fest, where she and Solange danced to Missy Elliott backstage.)
Even though Beyoncé's lawyers failed to get the suit dismissed outright, the judge is also unconvinced that the Barré estate's claims that fair use "doesn't apply to digital sampling of a sound recording," the Hollywood Reporter wrote when the judge's decision came down earlier this week. So now the real work begins for the "Formation" legal team to clear Queen Bey's good name.
Related: Beyoncé in "Lemonade": A GIF-by-GIF Breakdown
Watch: Sophie Turner and Chloe and Halle Bailey really, really love Louis Vuitton: