FYF Fest 2017: Missy Elliott Had the Best Weekend Ever, Making Friends with Björk and Dancing with Beyoncé
The rapper, who headlined the annual Los Angeles festival, had a "great convo" with the Icelandic legend.
---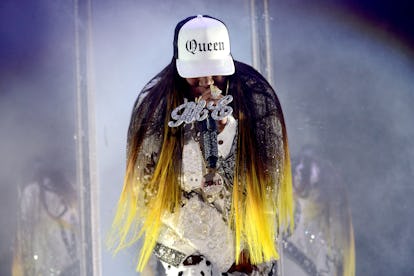 Scott Dudelson/Getty Images
It's been 20 years since Missy Elliott made her debut with "Supa Dupa Fly" and 12 years since her last full-length record, and she's still nabbing the top-billed spot at festivals. On Friday night, Elliott headlined Los Angeles's FYF Fest, marking her first full set in the United States in about 10 years. The rapper went on just after 11 p.m.—just after Icelandic musician Björk took the stage, alongside her collaborator, the producer Arca (who also played his own set over the weekend).
Sharing coveted Friday night time slots, and being two of the few women headlining festivals this summer, the two legends were bound to cross paths—and, judging by their Twitter interactions over the weekend, they hit it off. ".@bjork YOU are LEGENDARY! & your MUSIC & BEATS & CREATIVITY have been inspiring for ppl like me!" Elliott tweeted Saturday evening, along with a selfie she took with Björk. The next day, Björk retweeted Elliott, adding, "THANKU @MissyElliott !! that was 1 of the best shows ive ever seen:million mindblowing hits 1after the other! A TOTAL ETERNAL ADORE <3 björk." (Naturally, their exchange prompted observers to request the two get into the studio together, stat.)
Björk wasn't the only fan who came out for Elliott's can't-miss FYF Fest performance: Beyoncé and Solange Knowles were spotted dancing backstage during Elliott's set; and Solange later posted an Instagram of Elliott and her dancers from her prime backstage vantage. In an Instagram Elliott posted with the Knowles sisters, she wrote, "Big S/O to my good sis @saintrecords & my sis ?@beyonce they have always showed me love and supported me since day one! Over a decade." Though Elliott has released just one song each year since 2015, her impact on women in hip-hop, and on musicians across the festival lineup, is evidenced in the devotion of her fans—both celebrity and mere mortal alike. She also thanked Janet Jackson, Katy Perry, and Tyler, the Creator, for coming out to the festival Friday night. "(great convo with u) bjork!" Elliott wrote.
"I LOVE YOU ALL SO MUCH!" she concluded. The start of a beautiful friendship.
Related: Missy Elliott Drops New Single, Debuts New Music Video, Announces Documentary All at Once
Celebrating Missy Elliott's Love For the Formal Tracksuit
Missy Elliot opts for a red track ensemble over a white t-shirt for the 1997 MTV Europe Music Awards in Los Angeles.

Getty
The rapper makes a statement in a white suit with feather details for the 41st Annual GRAMMY Awards in 1999.

Getty
Missy Elliot at close friend, Puff Daddy's birthday at Cipriani's in New York in 1998 sporting a tan tracksuit and gold hoops.

Getty
Missy Elliot proves she doesn't shy away from embellishment in a mint-green suit and matching hat at the 13th Annual Soul Train Music Awards in 1999.

Getty
The rapper shines on the red carpet at the 42nd Annual GRAMMY Awards in a purple embellished suit and matching shoes.

Getty
Missy Elliot arrives at the 'VH-1 Divas 2000: A Tribute To Diana Ross' event in a white Versace suit in 2000.

Getty
Missy Elliot sports an orange and yellow coordinating Adidas track suit with matching visor and jewelry at the 2001 American Music Awards in Los Angeles, California.

Getty
Missy Elliot poses with her Grammy Awards in the press room of the 2002 GRAMMY Awards in a matching purple embellished ensemble.

Getty
Missy Elliot poses on the red carpet in a coordinating Puma tracksuit and jewelry at the 2002 2nd Annual BET Awards.

Getty
The rapper attends the Sean 'P. Diddy' Combs and Guy Oseary 2002 MTV Video Music Awards post-party in a pink and yellow tracksuit and matching headband.

Getty
Missy Elliot pairs jeans with a blue and white track jacket and blue beret at the 'DKNY and Vanity Fair Present In Concert Series' in 2002 at the Irving Plaza in New York, NY.

Getty
Missy Elliot is pretty in pink at the 2003 45th Annual GRAMMY Awards in a pink Adidas tracksuit, matching beret, and gold chain.

Getty
Missy Elliot wears a denim Adidas look with red details, a belt that reads MISSY, and gold chain to the 2003 the 17th Annual Soul Train Music Awards.

Getty
Missy Elliot smiles with her Best Video of the Year award at the 2003 MTV Video Music Awards wearing a coordinating green and plaid ensemble, down to the shoes. Elliot won for her song 'Work It.'

Getty
The rapper poses with her Favorite Female Rap Artist at the 2003 31st Annual American Musiic Awards wearing all black and gold hoops.

Getty
Missy Elliot wears a grey pinstriped suit and matching hat to the 2003 VIBE Awards.

Getty
Missy Elliot opts for a long white coat and matching beret at the New York 'Honey' premiere in 2003.

Getty
The rapper opts for a black and white blazer, a matching hat, and jeans to accept her Best Female Rap Solo Performance at the 2004 46th Annual GRAMMY Awards.

Getty
Missy Elliot wearing all Adidas at the launch of her Adidas clothing line, 'Respect M.E' at Adidas SoHo store in 2004.

Getty
Missy Elliot pairs a pink coat and boots with a plaid beret and white Adidas messenger back for the 'Hitch' World Premiere in 2005.

Getty
Missy Elliot sits front row at the Baby Phat by Kimora Lee Simmons Fall/Winter 2005 Fashion Show wearing a pink blazer, hat and jeans.

Getty
Missy Elliot attends the Diesel Fall 2005 Fashion Show at Hammerstein Ballroom in New York City wearing a silver metallic tracksuit and coordinating hat.

Getty
Missy Elliott ditches the tracksuit backstage during the 2005 BET Awards wearing jeans and a black detailed boho top.

Getty
Missy Elliot doesn't let any injury stop her! The singer pairs her crutch and scooter with loose green pants and a white jacket at the 2005 33rd Annual American Music Awards, where she won Favorite Female Artist (rap/hip-hop).

Getty
Missy Elliot opts for a head-to-toe denim look for the 2006 48th Annual GRAMMY Awards where she was the winner of Best Short Form Music Video for her hit 'Lose Control.'

Getty
The Missy Elliot recreates her iconic 'Super Fly' music video outfit for a performance at the 2006 MTV Music Video Awards in New York City.

Getty
The rapper arrives at friend, Ciara's, birthday wearing a brown Gucci top, with brown suede boots and hat in 2006.

Getty
Missy Elliot opts for a classic black and gold tracksuit for her birthday at TAO Las Vegas in 2008.

Getty
Missy Elliot poses backstage at the hit play 'RACE' on Broadway wearing a black jacket and jeans in 2009.

Getty
Missy Elliot waves on the red carpet of TAO's 10th Anniversary party in 2010 in a graphic t-shirt, embellished leather jacket, and classic light-washed jeans.

Getty
How Hiplet, a Powerful Fusion of Hip Hop and Ballet, Is Redefining the Dance World