Three Years After the Met Gala Incident, Beyoncé and Jay-Z Are Not Afraid Of Elevators
The couple was spotted leaving an elevator at Angelika Film Center in New York City for Jay-Z's birthday.
---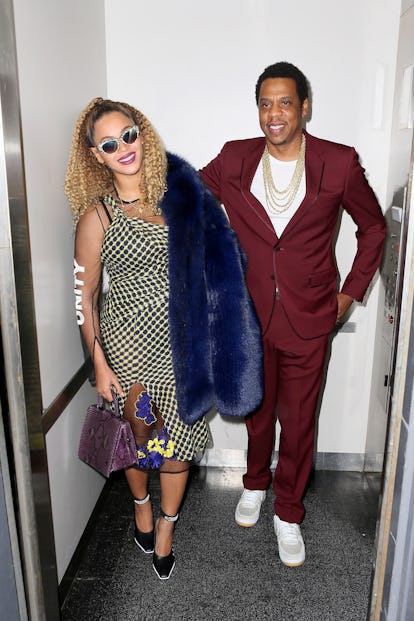 TYJA, LIKE, AGNY
Beyoncé and Jay-Z just recreated one of the most analyzed elevator snapshots of all time (minus one crucial component) as they stepped out of the Angelika Film Center in New York City, after a private screening of Woody Allen's Wonder Wheel for Jay-Z's 48th birthday, People reports. A wink and a nod from Jay-Z and Beyoncé were given to the paparazzi to take photos of what was posed as a cheeky reenactment of the infamous elevator incident.
Nearly four years ago, Beyoncé, Jay-Z and Solange all hopped in an elevator for a Met Gala after party at the Standard Hotel, and shortly after the three emerged, surveillance footage showing what went down inside was leaked. The footage, sans audio, reveals a fight between Solange and Jay-Z, where she yells at and physically kicks him before a security guard can pull her away. Rumors circulated that Solange was standing up for her big sister after discovering Jay-Z's infidelities, which were eventually confirmed to be true by Beyoncé and Jay-Z through their own individual artistic expressions. The infamous Standard Hotel elevator incident eventually inspired the line, "Of course sometimes s–t go down when it's a billion dollars on an elevator" on Beyoncé's remix of her self-proclaimed feminist anthem "***Flawless" featuring rapper Nicki Minaj, and was referenced by Jay-Z, as he raps, "You egged Solange on, knowin' all along all you had to say you was wrong" on "Kill Jay Z."
Monday night's post-screening smiles appear calculated, as just last week Jay-Z admitted to cheating on his wife in an interview with The New York Times. In the Times interview, Jay-Z revealed that the two almost divorced but have since reconciled, as you can see from the recent smiling elevator picture of the duo in New York City, but even though Solange was not present in this most recent elevator snap, the couple's sense of humor about the Standard Hotel elevator incident feels contrived when up until recently the couple kept mum until they rapped or sang about it on their respective albums. Jay-Z also revealed that a joint album between the king and queen of pop culture was in the works when Beyoncé spun her pain into Lemonade and Jay-Z made 4:44, which was widely received as his response to Beyoncé's award-winning album. The address of the Standard's bar—444 West 13th Street—is also speculated to have served as inspiration for the title of Jay-Z's most recent Grammy-nominated album, further pressing the idea that the elevator incident of May 2014 may have been a catalyst for the public reconciliation of disturbing his relationship with Beyoncé.
Related: Beyoncé Was Working on a Joint Album with Jay-Z When She Decided to Step Away and Make Lemonade
Beyoncé: Fierce, Fearless, Female