Beyoncé and Jay-Z "Challenge" You to Try Veganism
"Let's take this stand together. Let's spread the truth."
---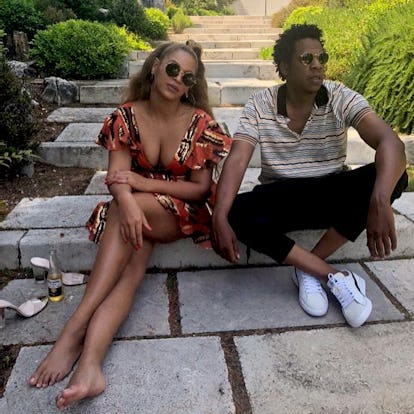 Courtesy of @beyonce
For those who've neglected to come up with any New Year's resolutions, fret not: Beyoncé and Jay-Z have got your back. Just in time for 2019, the pair has come together to invite the world to join them in their quest for practical veganism, which they've apparently strengthened their commitment to past just 44 days, aka the length of Beyoncé's preparations for Coachella.
More than half a year after she announced that it was "Vegan Time!!", she's now teamed up with her husband to put her newfound dedication in writing—more specifically into the intro to a new book by her personal trainer (and partner in 22-day vegan diet plans) Marco Borges. While The Greenprint: Plant-Based Diet, Best Body, Better World is officially an outlet for Borges to explain how going plant-based can help with boosting your energy and metabolism, reducing inflammation, and losing weight, it's foward also turned out to be an outlet for Beyoncé and Jay-Z to issue their plant-based manifesto.
"We used to think of health as a diet—some worked for us, some didn't. Once we looked at health as the truth, instead of a diet, it became a mission for us to share that truth and lifestyle with as many people as possible," they wrote, according to People mag. Still, they aren't expecting anyone to stick veganism 24/7, or change their lifestyle overnight; instead, their current "mission" is to convince people to incorporate more plant-based meals into their usual diets, which they say is enough to bring about a "profound impact on our health and the environment." (According to researchers at the University of Oxford, veganism is in fact the "single biggest way" to to reduce your carbon footprint and impact on the environment.)
"We want to challenge you, as we challenge ourselves," they continued. "We all have a responsibility to stand up for our health and the health of the planet. Let's take this stand together. Let's spread the truth. Let's make this mission a movement." (Originally, the power couple limited challenging themselves to only 22 days—a number they came to with Borges after studying up on some psychologists' theory that it takes 21 days to make or break a habit.)
If you're not sold just yet, allow a few more words from Bey to inspire you: "If I can do it, anyone can," she said this past June. "All you have to do is try." She also credited Borges with "leading by example" with his "decision to live a healthy lifestyle," which she said has turned him into "the most energetic person" she knows. (The benefits for Bey, like enough energy to induce mania at Coachella, have been enough for her to turn her back on more popular crash diets, having found that sticking to a plant-based regimen made sure that "the weight stayed off," not to mention tightened and firmed up her skin.)
Perhaps most convincing of all is Borges's belief that it's actually not inconceivable for you to resemble Beyoncé; all you have to do, in fact, is indulge in some carbs. (Well, as well as exercise 30 minutes per day, up your water intake, and stick to a three-meal routine). Oh, and you'll also bear some similarities to celebrity vegans like Jessica Chastain, who's said going vegan has given her more energy than she's ever had in her life, and the ever glamorous Tom Ford, who started off 2018 by sharing that "When you look at how most of our meat, our animal products, are raised, from a health standpoint, I didn't feel that I should eat those things anymore."
An alternative source of inspiration is also, of course, marveling at Beyoncé's extraordinary energy, which just might prove to be enough to have her admirers like Michelle Obama, Rihanna, and Gwyneth Paltrow convinced.
Related: Jessica Chastain Worries Her Italian In-Laws "Hate" Her Because She's a Vegan
Beyoncé's Most Iconic Beauty Moments of All Time
As a member of Destiny's Child in 1999, Beyoncé embraced a more natural look hair-wise — which made her purple eye shadow and shimmery lipgloss stand out all the more. Photo courtesy of Getty Images.

Getty Images
At the 2000 9th Annual MTV Movie Awards, Beyoncé wore her highlighted loose waves with a glossy, mauve lip. Photo courtesy of Getty Images.

Getty Images
Beyoncé 2001 MTV Movie Awards wears her highlighted blonde locks in tousled waves with a floral hairpiece and a golden smoky eye. Photo courtesy of Getty Images.

Getty Images
A look we wish she'd revive — Beyoncé appeared on TRL again in 2002 to promote Austin Powers in Goldmember, showing off the same hair style sported by her character Foxxy Cleopatra. Photo courtesy of Getty Images.

Getty Images
Beyoncé was glowing at the The Fighting Temptations film premiere in Hollywood in 2003 wearing a sleek, braided up do with a silver smoky eye. Photo courtesy of Getty Images.

Getty Images
Wearing a low, tousled pony with blunt bangs and a gunmetal smoky eye, Beyoncé attends the 2003 MTV Europe Music Awards. Photo courtesy of Getty Images.

Getty Images
Loose curls defined the look for all three ladies of Destiny's Child for their NFL performance before the Patriots vs. Colts game in Foxborough, Massachusetts in 2004. Photo courtesy of Getty Images.

Getty Images
Though she wasn't up for any awards in 2005, Beyoncé arrived at the 47th annual Grammy Awards looking like a winner, with a slick updo and a fresh glow. Photo courtesy of Getty Images.

Getty Images
Beyoncé shows off full, loose curls (much like her Foxxy Cleopatra look, minus the curly bangs) for a BET Awards performance alongside Jay-Z in 2006. Photo courtesy of Getty Images.

Getty Images
A winner all around in 2007: A more understated look allows the best accessory, a new Grammy to add to the collection, to speak for itself. Photo courtesy of Getty Images.

Getty Images
At the premiere of Cadillac Records in 2008, Beyoncé embraced a classy singer-actress look with another slick up do, this time with a loose pony behind it. Photo courtesy of Getty Images.

Getty Images
Beyoncé rocked brunette curls at the 2009 MTV Video Music Awards with a subtle grey smoky eye and and glossy nude lip. Photo courtesy of Getty Images.

Getty Images
Flat, ultra-highlighted hair pairs with a more exaggerated winged liner than Beyoncé's usual look, here at the 52nd annual Grammy Awards in 2010. Photo courtesy of Getty Images.

Getty Images
Beyoncé bleached her hair even further for the Grammys the following year, in 2011. Photo courtesy of Getty Images.

Getty Images
Beyoncé went back to bangs in 2012. She paired the look with matte pink lip. Photo courtesy of Getty Images.

Getty Images
Beyoncé showed off her super short pixie cut in 2013. Photo courtesy of Instagram.

Instagram
Every year brings another Grammy Awards, and with it, another stellar look from Beyoncé. She rocks yet another variation on the formal ponytail for the event in 2013. Photo courtesy of Getty Images.

Getty Images
Beachy, tousled waves paired with a taupe smoky eye was Beyoncé's stunning look at the Costume Institute Gala for the "PUNK: Chaos to Couture" in 2013. Photo courtesy of Getty Images.

Getty Images
The singer went short again with faded ombre ends and a vivid makeup look for the Grammys in 2014. Photo courtesy of Getty Images.

Getty Images
Beyonce's sultry evening look turned heads at the 2014 Costume Institute Gala as she paired her sleek up do with a maroon lip and an embellished veil. Photo courtesy of Getty Images.

Getty Images
Beyonce's sheer Givenchy gown might have been what attracted all the attention at the 2015 Met Gala, but her hair and makeup are equally worthy of attention. A towering, teetering ponytail amps it up, while her makeup stays neutral. Photo courtesy of Getty Images.

Getty Images
At the 2016 Super Bowl Halftime Show, Beyonce and her dancers stepped out in Black Panther-esque black catsuits — but her gorgeous ombre curls are equally commanding. Photo courtesy of Getty Images.

Getty Images
Proving once more that less is more, Beyoncé made a surprise appearance at 2016 58th Grammy Awards wearing a sleek, side-parted low bun with a taupe smoky eye. Photo courtesy of Getty Images.

Getty Images
Stunning in an adventurous latex Givenchy dress at the 2016 Costume Institute Gala, Beyoncé wore her long blonde locks sleek straight with an exaggerated jade green smoky cat eye. Photo courtesy of Getty Images.

Getty Images
The 22-time Grammy winning singer celebrates her latest additions for Best Music Video and Best Urban Contemporary Album wearing a copper smoky eye and matte nude lip. Photo courtesy of Getty Images.

Getty Images
Beyonce during the 60th Annual GRAMMY Awards at Madison Square Garden on January 28, 2018 in New York City. Photo courtesy of Getty Images.

Getty Images
Beyonce Knowles performs onstage during the 2018 Coachella Valley Music And Arts Festival at the Empire Polo Field on April 21, 2018 in Indio, California. Photo courtesy of Getty Images.

Getty Images
Beyonce attends the Premiere Of Disney's "The Lion King" at Dolby Theatre on July 09, 2019 in Hollywood, California. Photo courtesy of Getty Images.

Getty Images