FROM THE DEP'T OF FLAWLESS
Beyoncé's Makeup Artist, Sir John, On All Things Beauty, Skincare, and His All Time Favorite Beyoncé Look
Beyoncé's makeup artist, Sir John, on his favorite holiday looks and more.
---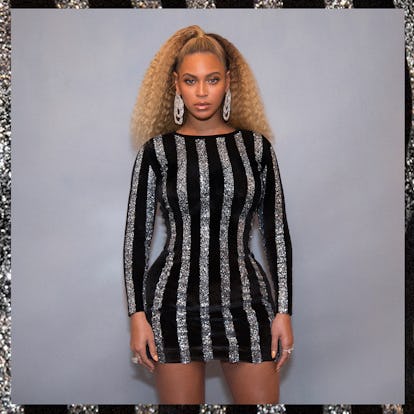 @beyonce
It's no secret that whenever Beyoncé makes changes to her style, whether it's the addition of long braids and a sleek cat eyes or short lobs and natural skin, it's an instant hit. Now, meet the man behind Beyoncé's most iconic red carpet moments and longtime makeup artist, L'Oréal Paris Celebrity Makeup Artist and Bey's personal longtime makeup artist Sir John. Breaking down his favorite holidays looks, even for the girl on the go, John reveals that creating a an effortlessly glamorous look is as easy a touch of mascara and dab of lipstick. Here, John shares his best makeup and skincare techniques, his all time favorite beauty look of Beyoncé and more.
What is your favorite look the for the holidays?
I love a bold eye for the holidays. Nothing says holidays like a serious statement eye. Adding a little bit of a shimmery or glittery shadow gives you that holiday luster too. I love to put a little bit of the Infallible Paints Eyeshadow Metallics right on the ball of the eye to create that lustrous dimension. My second runner up is to try is a textured statement lip. Next year, it is all about texture and contrast, think matte lips and super dewy skin, or super glossy, vinyl lips with matte skin.
How do you prep the skin before makeup?
Skincare prep is one of the most important makeup steps, you need a great canvas to get the best end result. I love a Clarisonic device for prepping the skin and cleansing. It helps give you a really deep cleanse and is good at the end of the night for removing your makeup too. Then, I love to use a rose oil or a DIY rose water spray and finish with a moisturizer like Hydra Genius for Oily Skin if you want something mattifying or Hydra Genius for Extra Dry Skin if you need something super moisturizing for winter.
What are your best tips for long-lasting makeup?
Skincare is key! Like I mentioned above, start with a great cleanse and then use a mattifying moisturizer like Hydra Genius for Oily Skin to keep your foundation anchored all day long. When you go to set your foundation, utilize a translucent powder like Infallible Pro Sweep & Lock Loose Setting Powder. Make sure to use a fluffy brush vs. a sponge. Set by brushing in a powder instead of sponging.
What products should be in our makeup bag for the winter time?
Colour Riche Shine Lipstick and Colour Riche Matte Lip Liner, this combo is great for lasting throughout the holiday parties and dinners. Line your entire lip with the lip liner, then add the Shine lipstick on after for a multidimensional look. Travel sized moisturizer like L'Oréal Revitalift Cicacream is great as well. You can put this in your clutch and just touch up throughout the night if you feel your skin getting dry (due to the cold winter weather). A little goes a long way here, so just use a dot and press into skin on top of foundation.
What is your go-to 5 winter minute look everyone can wear?
For a Quick DIY cat eye, use Infallible Pro-Last Pencil Liner and line both the inner & upper lash line, then pull the liner out to create a great cat eye. You can also have a little fun with these liner and opt for a fun color like purple or cobalt. Then, do a quick statement lip, the Colour Riche Matte Lip Liner + Colour Riche Shine Lipstick is a fun combo. Finish off your look with a highlighter on the cheeks, nose and inner corners of your eyes using the True Match Glow Amour Glow Boosting Drops.
What are your beauty tricks for the girl on the go?
Concealer is a must for the girl on the go. A nice concealer like Infallible Pro Glow Concealer is great because you can pack it in your clutch and utilize it for spot touching up throughout the day as needed. Also, for the girl on the go it really is all about the lip. Make the statement lip your go to and then pair with mascara and your look is complete!
What is all time favorite red carpet beauty moment from Beyoncé and how can transfer that look for a holiday party?
I love Beyonce's look from the Tidal Event red carpet, she's wearing a magenta dress. For this look, it was really all about the layering of bronze and gold shadows. Using something like Infallible Paints Metallic Eyeshadow in Bronze Knuckles on the lid and then tapping in a gold like Infallible 24HR Eyeshadow in Eternal Sunshine on the center/ball of the eye for that 3-d effect. The look also featured sculpted cheekbones, socket of the eyes and temples. You can do this all with a with a taupe matte blush/bronzer like the shades found in the Infallible Pro Contour Palette.
What beauty trends do you hope for in 2018? What do you hope will go away?
New: Natural looking, feathery lashes. Use a mascara like Lash Paradise and pair with individual lashes as needed. Go Away: heavy, full-strip lashes!
What is your beauty mantra for 2018?
I want to increase women's vibrations that they send out into the world. Women have this beautiful confidence and through working together, I want to not help them to increase this, but also have this worth and confidence just radiate off of them.
[#article: /articles/5a368bb93588bb70c4d93d33]||||||