Why Has Bill Cosby Been So Staunchly Silent?
Even when hearing the news of his prison sentence—and being put in handcuffs.
---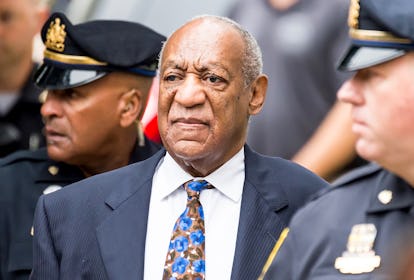 Gilbert Carrasquillo/Getty Images
When Bill Cosby arrived to the Montgomery County Courthouse in Pennsylvania on Tuesday at 9:08 a.m., he had no guarantees of what his fate would be for the next 30 years. What he did know, though, was that he wouldn't be speaking up in his own defense; in fact, his lawyer has already informed the judge as much. And, true to his word, he remained silent when Judge Steven T. O'Neill announced that he was sentencing Cosby after he was found guilty for drugging and sexually assaulting a woman, Andrea Constand, in 2004. The punishment: a three- to 10-year prison sentence without bail, a $25,000 fine, and a mandate to register as a "sexually aggressive predator." The defense had been seeking mere house arrest.
There was, however, one brief moment during the sentencing hearing in which the 81-year-old comedian did speak up: when the prosecutors were walking him through what his life would be like from now on as a registered sex offender, causing him to raise a question: "If I went from a city to another city, do I have to, even if it's just overnight, I have to get in touch with the state police?"
That disturbingly anodyne query made up the only real words that Cosby spoke in about as tense of a context as possible: the final outcome of his arrest in 2015, and the climax of a years-long legal case and even more years of accusations. The case had originally gone to trial in 2017, and his team saw it as something of a victory when it ended with a hung jury and a retrial—that is, until this past October, when the mass accusations leveled against Harvey Weinstein brought about the #MeToo movement, toppling powerful men, who like Cosby, had long been suspected of a history of assault and sexual misconduct, as powerful and prominent as Roy Moore, Matt Lauer, Charlie Rose, Louis C.K., and Kevin Spacey, within less than two months.
Cosby's pointed silence stood in stark contrast to the brave women who had chosen to speak out about his abuse. After all, it wasn't just the cultural undercurrents of #MeToo that played a pivotal role in his retrial, but the fact that unlike in the original trial, not one, but five additional accusers were allowed to voice their own allegations of sexual abuse at the hands of Cosby. Their strength in numbers carried over to Tuesday, too; nine of Cosby's accusers, including Janice Dickinson, who described herself "victorious" after the trial, accompanied Constand to the courtroom.
Cosby, on the other hand, was not only silent, but also solo: The voice of Cosby's wife of more than five decades, Camille Cosby, was notably absent when O'Neill announced that her husband, whom Pennsylvania law now classifies as a "sexually violent predator," and whom a psychologist said has a "mental abnormality" that makes him "likely to reoffend," would be heading straight to prison without bail—all pronouncements that, by all accounts, would have made Camille bristle.
Unlike Cosby, Camille has dedicated the past year to defending her husband, steadfastly denying rumors of divorce and smilingly accompanying him arm in arm to court. A week after his retrial, she made an official statement accusing the press of disseminating propaganda, referring to the attacks on her husband as "lynch mobs" and comparing his case to that of Emmett Till. And earlier this week, she announced that she'd retained a former prosecutor to "facilitate [her] efforts to uncover the truth" and to investigate the "unethical" Judge O'Neill.
O'Neill, of course, was still in the courtroom. Camille was not.
But if Camille's absence bothered him, Cosby didn't show it. Indeed, throughout the trial, he acted the same way he likely would have if Camille had been present—which is to say that he did absolutely nothing. He maintained the staunch silence that's settled in even as the count of women who've spoken out against him has climbed to more than 50. (Save for that time he told a reporter he'd had "a lot of fun" when he performed a notably well-received stand-up routine earlier this year.)
To date, Cosby has declined every opportunity to defend himself in court—though he admittedly did speak up during his conviction, in an outburst that couldn't have been more unlike his logistical query about traveling as a registered sex offender. When prosecutors made the case that since there was no guarantee that he would reappear in court later this year, particularly since he has a private plane, and that therefore his $1 million bail should be revoked, Cosby stood up and yelled in the third person, "He doesn't have a private plane, you asshole."
As dissimilar as they are, both remarks are alike in underlining the prosecutors' assertion that Cosby has "no remorse." (If he does, he and his lawyers have never made any attempt to convey it when discussing any of the dozens of sexual misconduct allegations made against him to date.) It's no surprise, then, that according to The New York Times, Cosby "sat quietly and made no reaction" when his sentence was announced. Instead, he silently allowed four sheriff's deputies to escort him out of the courtroom after exchanging his suit jacket for handcuffs—an ensemble that ended up speaking just as loudly as Weinstein's disarmingly simple ensemble of a pricey-looking periwinkle V-neck sweater and a dark pair of jeans did when he turned himself in for arrest this past May in Manhattan.
Whether out of apathy or defeat, Cosby stuck to his silence to the very end—though the same most definitely can't be said of those who've been following his case. Some, like Dickinson, have reacted with triumph; others, like a woman outside the courthouse who held up a "WE [HEART] COSBY" T-shirt, have reacted with outrage. And for some, it's been a rather cynic mix of both. With the news breaking just more than 24 hours after a nationwide "Believe Survivors" walkout in support of the two women who've recently accused Brett Kavanaugh of sexual misconduct, some couldn't help but draw parallels between his case and Cosby's. As the comedian Chelsea Handler, who's just one of the celebrities to have publicly reacted so far, put it: "Bill Cosby is set to serve 3 to 10 years in prison, but when he's released he's expected to be nominated to the Supreme Court."
Related: Harvey Weinstein's Outfit Did the Talking for Him When He Silently Turned Himself In