Everything We Know About Billie Eilish's Extravagant, Instagram-Friendly Release Party
Delilah Belle Hamlin, Heidi Klum, Tove Lo, and others gathered to take in the "experience."
---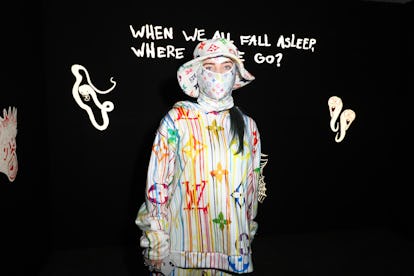 Joe Scarnici/Getty Images
The 17-year-old pop prodigy Billie Eilish has exerted a lot of energy creating a cohesive online and musical identity—no capital letters; fashion cues borrowed from Tyler, the Creator; an intentionally spooky aesthetic—so it makes sense, in a way, that her album release would be an "experience," coded and packaged for streaming-era release. On Thursday evening, the young singer hosted a release party for her debut album, When We All Fall Asleep, Where Do We Go?, with Spotify in Los Angeles, an event that was attended by guests as varied as Heidi Klum, Amelia Gray, and Delilah Belle Hamlin (in a pair of pants that read "stop looking at my d–k" across the front). (Justin Bieber regrets that he was unable to make it.)
Titled the Billie Eilish Experience, the fete included rooms based on each of the songs on Eilish's album. "I wanted it to literally be like an exhibit, a museum, a place to smell and hear and feel," she told Billboard on Thursday evening. "Every room has a certain temperature, every room has a certain smell, a certain color, a certain texture on the walls. A certain shape, a certain number." Ushering guests through were staff members in jumpsuits emblazoned with Eilish's "blohsh" symbol—sort of like the figure that indicates a male restroom, but with a hunchback. Eilish's status as goth hypebeast par excellence was exemplified in the Takashi Murakami–designed sculpture of her that loomed over the entrance to the event.
And presiding over the whole thing was Eilish herself, in a logo-heavy look riffing on Louis Vuitton by the independent artist Tsuwoop. Her bucket hat, balaclava, hoodie, and wide trousers were capped off with white Nike sneakers; the stylist Samantha Burkhart, who was also responsible for that extremely memed Poppy look at the iHeartRadio Music Awards and Eilish's Sailor Moon look at the same event, also tagged Chrome Hearts in her post to Instagram depicting the full look.
Heidi Klum was photographed, wearing a silk polkadot ensemble, eagerly documenting her experience. Other attendees included Jessie Reyez, Bhad Bhabie (??), and Tove Lo. The real party, it appears, was on their Instagram Stories.