Björk Remains Queen of Surreal Fashion in New "Notget" Music Video
In Björk's new music video for "Notget," there's no technological trickery. Just pure Björk-ness.
---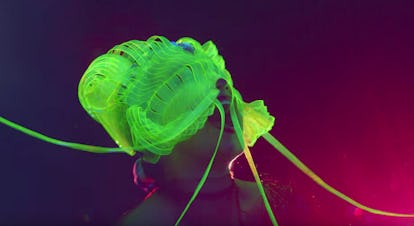 via YouTube
Long before Rihanna was wearing Comme Des Garçons and Lady Gaga was accessorizing with bloody meat, there was Björk, pop's queen of avant-garde fashion. No one else, after all, ever directly collaborated with Alexander McQueen on multiple music videos.
Behind her latest album Vulnicura, Björk has been experimenting with a lot of cutting edge video technology, some of which may be better viewed in an art gallery and not on your phone during lunch. There have been videos shot in 360 degrees, videos best watched with a Virtual Reality headset, and videos meant to be watched on two screens simultaneously. With her new video for "Notget" (which is completely separate from the previous VR video she already released for it) she goes back to standard Björk music video basics: which basically means Björk in Björk-worthy surreal fashion surrounded by trippy, dreamlike surroundings that can only spring from the mind of Björk. Set, of course, to Björk music.
The first half of the video finds our Icelandic queen shot in black-and-white and posing as some sort of creature in between cocoon and butterfly, while deep inside some sort of swamp cave.
Perhaps Björk saw Gucci's recent pearl mask and thought, "Well, that's cute and weird…
…but wait until they see the pearl mask in my video."
Just more inspiration for your Pinterest board dedicated to keeping up with the current pearl trend.
About halfway through, there's a CGI transformation scene that might appeal to anyone who likes watching blackhead extraction videos online, after which Björk emerges as some sort of neon-hued jellyfish lady.
The video finds Björk working once again with frequent collaborator, the photography and filmmaking duo of Warren du Preez & Nick Thornton Jones, while the track itself was a collaboration with Venezuelan producer (and Kanye West fav) Arca.
In any event, "Notget" proves yet another time that if you want to be truly boundary-pushing or just downright "weird" in pop music, then you have Björk to reckon with still.
Related: Inside Björk's All-Immersive VR Exhibit, "Björk Digital"
See What's Trending in W Video: