Something Blue
For eyes, blue is the coolest color.
---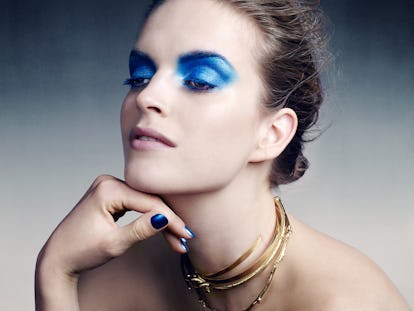 Photographer: David Slijper Stylist: Andreas Kokkino and Katie Becker
In 1957, the artist Yves Klein made the bold decision to commit to a single, vibrant hue. The color, which he described as "beyond dimensions, whereas other colors are not" and later patented as International Klein Blue, became his signature and, over the years, has inspired everything from runway collections (witness this fall's offerings from Alexander Wang, Proenza Schouler, and Altuzarra) to an Australian rock band named in its honor. The beauty world, of course, is not immune to its charms. Here, the makeup artist Violette used three different Dior products—Fusion Mono Eyeshadow in Reveuse, Art Pen in Blue Croisière, and Addict It-Lash mascara in It-Blue—to paint the entire eye area, from the brows to the tips of the lashes. "It looks more like a precious stone than makeup," she says of the undeniably arresting result. "Wear it like a jewel." And wear it with an otherwise bare face. As Klein might say, choose one color and go for it.
Hair by Tomi Kono at Julian Watson Agency; makeup by Violette for Dior; manicure by Mar Y Soul for Dior at Ray Brown. Model: Mirte Maas at Women Management.