Blythe Danner Responds With Fury to Gwyneth Paltrow's Post-Harvey Weinstein Treatment
"I cannot remain silent."
---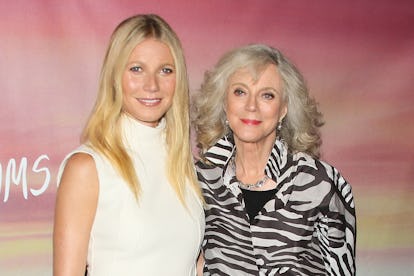 JB Lacroix/Getty Images
Hell hath no fury than a mother defending her little girl.
Blythe Danner, the talented actress mother of Gwyneth Paltrow, has lashed out at the New York Times in a letter to the editor in the paper about how she believes Times columnist Maureen Dowd improperly characterized Paltrow after she shared being sexually harassed by disgraced Hollywood mogul Harvey Weinstein. In her column, Dowd wrote that Paltrow "put aside her qualms" about Weinstein to become "the first lady" of his studio Miramax, after he had allegedly sexually harassed her in a hotel room when she was 22.
"After her initial shock, Gwyneth left the room immediately, and, despite the fact that Mr. Weinstein threatened her if she ever spoke of what happened, she reported it to her agent and to her boyfriend at the time, Brad Pitt, who confronted Mr. Weinstein," Danner wrote in her op-ed, which was specifically directed to Maureen Dowd. "Gwyneth did not 'put aside her qualms to become the first lady of Miramax' back then, as Ms. Dowd would have it. She continued to hold her own and insist that Mr. Weinstein treat her with respect."
Pointed words to Dowd aside, Danner also encouraged detractors (Donna Karen and Lindsay Lohan made pro-Harvey statements which they later apologized for) against the women speaking out to take a long look at themselves in the mirror and ask why they're defending such a ghastly man. "No one would argue that Harvey Weinstein isn't finally getting what he deserves. But I hope that this is the point of no return where change will occur, not only in our industry but also others," she wrote. "I suggest that the pundits stop casting aspersions on the women who have confronted unwanted sexual advances in the manner each sees fit and concentrate on the constructive ways to prevent this behavior in the future."
Last week, Paltrow—along with numerous other women, such as Angelina Jolie and Kate Beckinsale—disclosed how Weinstein allegedly sexually assaulted her when she was 22 years old. "I was a kid, I was signed up, I was petrified," Paltrow said, explaining how Weinstein allegedly encouraged her to come to his bedroom and give him a massage. "I thought he was going to fire me."
As of now, Weinstein is reportedly seeking treatment for sex addiction in Arizona. He has been removed from the board of multiple film academies, as well as his own company.
Women's rights are human rights: