Brad Pitt and Angelina Jolie Are One Step Closer to a Custody Agreement
Divorces are hardest on the kids, even if you're all mega-famous.
---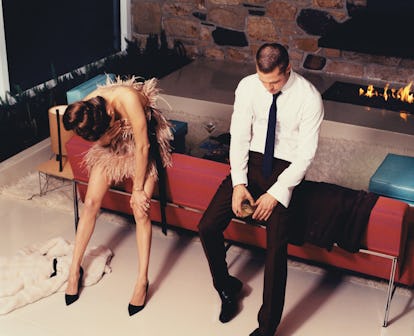 Steven Klein
A bit of very tentative good news for Angelina Jolie and Brad Pitt: the pair may be able to avoid going to trial over custody of their six children. Since they announced their divorce in 2016, the long-partnered Jolie-Pitt family has been in a sort of ongoing semi-drama, with bits and pieces of news about houses, fights, plane rides, and lawyers making it to the press at odd intervals. But as messy as the tabloid war may have gotten, it looks like the legal battle could be winding down.
Jolie's lawyer Samantha Bley DeJean told Reuters on Friday that "a custody arrangement was agreed to weeks ago, and has been signed by both parties and the judge," and elaborated that "the agreement, which is based on the recommendations of the child custody evaluator, eliminates the need for a trial. The filing and details of the agreement are confidential to protect the best interests of the children."
Their source reports that Jolie "is very pleased to be entering the next stage and relieved with progress for the health of their family," but Page Six's source advises caution, saying that this agreement is "merely a positive development."
But hey, isn't any news that isn't a trial good news? That seems like it would be the hardest on the kids, some of whom are very young. Then again, maybe the most important thing is the confidentiality. The couple formerly known as Brangelina can't seem to decide whether they want to deal with this divorce thing in public or not, or whether they want a court involved or not, and that's gotta be a confusing situation for everyone involved.
At least things are going well career-wise! Jolie recently finished filming a sequel to the massively successful Sleeping Beauty remake Maleficent, and Pitt just wrapped production on Quentin Tarantino's star-studded Once Upon a Time in Hollywood, a tale of, among other things, chaos and movie stardom. Hmm, how ever did he get into character for that?
Related: Angelina Jolie Has Been Ordered to Let Brad Pitt Spend More Time With Their Children