Brad Pitt Really Wants You to Think He's Winning This Breakup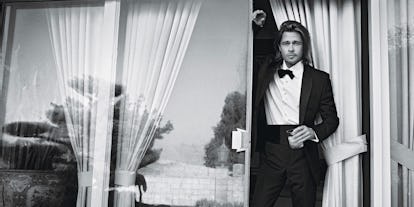 Mario Sorrenti
Brad Pitt has made plenty of headlines out of his dating life since separating from Angelina Jolie in September 2016—he's been flirting with regular, nonfamous women in coffee shops under his real name and building furniture, all while slowly but surely making his way back into the spotlight by showing up at parties as though nothing ever happened.
People reports that the actor stopped by a party ahead of the Oscars on March 1, with a source telling the publication that "the separation was very dark for him, but lately he looks healthier and happier. He seems excited about life."
That's because Brad Pitt wants you to believe that he is the one who is winning the breakup. Who is really winning, though? It depends on how you look at the way both halves of the former power couple have handled their separation over the past 18 months.
Between crying onstage with Frank Ocean, signing on to star in a Quentin Tarantino film, and flirting with America's sweetheart Tiffany Haddish in an elevator, Pitt's apparently elevated mood would cause one to believe that maybe he really is out here thriving after the public dissolution of a 12-year relationship.
Meanwhile, Angelina Jolie has made ways on the philanthropy front, by bringing her kids to Jordan to meet with Syrian refugees, publicly encouraging her children to live a "life of service," and accepting accolades from the United Nations for her humanitarian work, all while continuing to co-run her wine label with Pitt.
The couple is reportedly still working to finalize the divorce and custody terms for their six children, but as of right now, People reports that Pitt "seems to be in a better place," noting that his ruggedly handsome beard is the number one indicator that the actor is now living his single life to its max.
Related: Tiffany Haddish Says Brad Pitt Asked Her Out at the Oscars, with One Major Stipulation