Brie Larson, Oscar Winner, "Didn't Feel Pretty Enough" for Starring Roles
The actress opened up about self-confidence.
---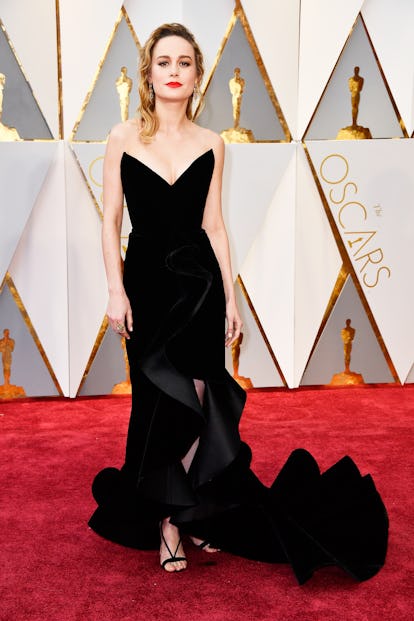 Frazer Harrison
Brie Larson spent the first decade of her career in supporting roles in romcoms and teen movies: She played a members of the popular cliques in both Sleepover and 13 Going on 30, and ex-girlfriends in Scott Pilgrim vs. the World and The Spectacular Now. In a new interview with Glass Castle costar Woody Harrelson for Net-a-Porter's Porter magazine, Larson revealed that although she now has an Academy Award for Best Actress under her belt, she used to think these minor roles were the only parts she'd ever play.
"I just didn't feel confident in myself, I didn't feel pretty enough," she told Harrelson in the Winter 2017 "Incredible Women" issue, according to the Daily Mail. "I thought I'd be a supporting character my whole life, and I was struggling with the idea of being the star." The 27-year-old star added that as she's come into her own as a lead actress in films like Room, Short Term 12, and Kong: Skull Island, she's also learned her worth as a woman. "I've been on sets where I didn't feel safe, I've felt objectified," she said. "But as I'm getting older, I'm realizing that I can value myself, I'm allowed to."
And while it's thrilling to graduate to headlining a superhero film, stardom does have its downsides. Larson opened up about the sacrifices that come with signing on to play a huge character like that of Captain Marvel. "I spent months thinking about whether or not I was going to do the film, and I realized that it was a chance to tell a story on the largest scale possible," she said of the 2019 installment in Marvel's Avengers franchise. "I know it is going to make me lose some of the things I love most about my life, but I think it's worth it."
Brie Larson watches her favorite love story on loop: