Britney Spears, Twitter's Biggest Olympics Fan, Finally Met Adam Rippon and Gus Kenworthy
It was only a matter of time before these three took their friendship offline.
---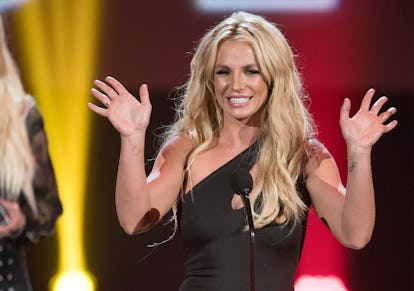 Image Group LA/Disney Channel via Getty Images
After a long couple of months, three American icons have finally met, and it was only a matter of time before they took their social media camaraderie to real life.
On Thursday night, Britney Spears's efforts to support the LGBTQ community were recognized when she was honored with a Vanguard prize as a special honoree at the GLAAD Media Awards in Los Angeles, while Olympic skier Gus Kenworthy and Olympic skater Adam Rippon presented awards at the ceremony honoring the inclusion of LGBTQ community across the media. There's a reason Britney Spears is heralded as a gay icon: For years, she has advocated the support of LGBTQ youth, signing letters in protest of transphobic bathroom bills and reaching out to fans in need.
The Internet has been waiting for a meeting between this trio for months; Spears was rooting for Team USA during the Winter Olympics, when she tweeted, "Hey @Adaripp…. I just wanted let you know that I am a fan, I am not in denial, and that you are THE MOST FUN!! Keep making us all smile at the #WinterOlympics and good luck today," followed by "So proud of #TeamUSA!! Hey @guskenworthy, gimme, gimme more on the slopes today!! #ItsGusBitch ??⛷" after Rippon took to the ice and Kenworthy hit the slopes to compete. Of course, both Olympians replied with shock and gratitude after checking their mentions, with Rippon specifically noting the unmitigated impact the pop icon has made on Instagram.
Both Kenworthy and Rippon have been outspoken about their sexuality and the importance of LGBTQ representation in sports and the media. The two Olympians took the stage together and also shared a surprise kiss onstage while presenting an award during the ceremony.
Rippon, who has a habit of meeting up with his online friends offline also tweeted that he could only think of those iconic fashion shows Spears has been bestowing upon the Instagram community for nearly two years now while he was headed to meet his idol. The ally was presented her Vanguard award by another pop icon: Ricky Martin, who announced to the audience, "She could be one of those stars with a huge LGBTQ following that says nothing and does nothing, but instead she uses her platform to remind audiences around the globe that intolerance is unacceptable."
Spears teased a photo of the meeting on Instagram, but the 29th Annual GLAAD Media Awards will air on LOGO on April 18, so we'll all have to wait until then to see what else went down offstage between the three of them. Hopefully, Spears will be Twitter-cheering Rippon on when he joins the upcoming athlete superstar season of Dancing With The Stars.
Related: Britney Spears Just Landed a Major Fashion Campaign—Why Has It Taken This Long?
TRL Is Back! Revisit Some of the Show's Most Iconic, Early 2000s Fashion Moments
Rihanna poses for a photo backstage during MTV's Total Request Live at the MTV Times Square Studios on May 8, 2007 in New York City.

Getty
Britney Spears backstage at a taping of MTV's "TRL" in Times Square.

Getty
Kanye West during MTV's "TRL" announcing the nominations for the 2007 MTV Video Music Awards at MTV Studios in Times Square on August 7, 2007 in New York City.

Getty
Shakira and Carson Daly during MTV's Spankin' New Music Week on TRL at the MTV studios in New York City.

Getty
Christina Aguilera during "Spankin' New Music Week" on TRL at the MTV studios in New York City.

Getty
Jessica Simpson and Damien Fahey during a taping of MTV's "TRL" in Times Square.

Getty
Gwyneth Paltrow poses for a photo backstage during MTV's Total Request Live at the MTV Times Square Studios September 16, 2004 in New York City.

Getty
Daniel Radcliffe and Emma Watson appear on stage during MTV's Total Request Live at the MTV Times Square Studios May 24, 2004 in New York City.

Getty
NEAlicia Keys poses for a photo backstage during MTV's Total Request Live at the MTV Times Square Studios December 21, 2005 in New York City.

Getty
Beyonce Knowles makes an appearance on MTV's Total Request Live on February 28, 2007 in New York City.

Getty
Paris Hilton at the MTV Studios Times Square in New York City, New York.

Getty
Charlize Theron attends a taping of MTV's "TRL" in Times Square.

Getty
Avril Lavigne attends a taping of MTV's "TRL" in Times Square.

Getty
Amy Adams appears onstage during MTV's Total Request Live at the MTV Times Square Studios November 19, 2007 in New York City.

Getty
Solange Knowles visits MTV's "TRL" at the MTV studios in Times Square August 26, 2008 in New York City.

Getty
Taylor Swift poses for a photo backstage during MTV's Total Request Live on June 16, 2008 at the MTV Times Square Studios in New York City.

Getty
Jennifer Lopez and Carson Daly at a taping of MTV's "TRL" in Times Square.

Getty
Kris Jenner and Kim Kardashian arrive at the "TRL" taping at the MTV Studios in Manhattan on August 25, 2008 in New York City.

Getty
Ashley Olsen and Mary Kate Olsen during visit MTV's "TRL" – May 5, 2004 at MTV Studios, Time Square in New York City, New York, United States.

Getty
Keira Knightley during Keira Knightley Visits MTV's "TRL" – June 28, 2004 at MTV Studios in New York City, New York, United States.

Getty
Gwen Stefani with the Harajuku Girls during "TRL" – March 22, 2005 at MTV Studios, Times Square in New York City, New York, United States.

Getty
Lauren Conrad visits MTV's "TRL" – September 14, 2005 at MTV Studios in New York City, New York, United States.

Getty
Michelle Williams, Kelly Rowland and Beyonce Knowles of Destiny's Child visit MTV's "TRL" in Times Square.

Getty
Lindsay Lohan visits MTV's "TRL" – December 7, 2004 at MTV Studios in New York City, NY, United States.

Getty
Anne Hathaway visits MTV "TRL" – June 29, 2006 at MTV Studios in New York City, New York, United States.

Getty
Ashlee Simpson visits MTV's "TRL" – September 20, 2004 at MTV Studios – Times Square in New York City, New York, United States.

Getty
Miley Cyrus appears on MTV's "TRL" at the MTV studios in Times Square on July 18, 2008 in New York City.

Getty
Rachel Bilson visits MTV's "TRL" – February 23, 2005 at MTV Studios in New York City, NY, United States.

Getty
Cameron Diaz, Lucy Liu and Drew Barrymore visit MTV's "TRL" – June 26, 2003 at MTV Studios Times Square in New York City, New York, United States.

Getty
Carson Daly and Angelina Jolie during a taping of MTV's "TRL" at MTV Studios- Times Square in New York City, New York, United States.

Getty