Cate Blanchett Speaks Out About Sexual Abuse Allegations Against Woody Allen
She reiterates that she knew nothing of the allegations when she worked with him.
---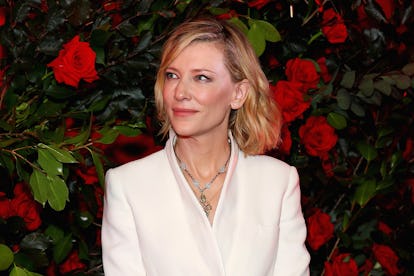 Don Arnold/Getty Images
Like some other outspoken proponents of #MeToo and Time's Up, Cate Blanchett has worked with alleged sexual abuser Woody Allen, and on Wednesday, she addressed the controversy with a lengthy riff about social media and legal precedents. Appearing on CNN's Amanpour to discuss her recent visit with Rohingya refugees in Bangladesh, Blanchett spoke at length about the #MeToo and Time's Up movements before facing an uncomfortable question over her Oscar-winning appearance in Allen's 2013 film, Blue Jasmine.
"How do you juxtapose being a #MeToo proponent, a Time's Up proponent, and staying silent or having worked with Woody Allen?" asked CNN's Christiane Amanpour. "Would you work with him again, given the allegations?"
"I don't think I've stayed silent at all," Blanchett answered, without saying whether she would work with the director again. "At the time that I worked with Woody Allen, I knew nothing of the allegations and they came out at the time that the film was released. And at the time, I said it's a very painful and complicated situation for the family, which I hope they have the ability to resolve."
"And if these allegations need to be reexamined which, in my understanding, they've been through court, then I'm a big believer in the justice system and setting legal precedents," she continued. "If the case needs to be reopened, I am absolutely, wholeheartedly in support of that."
Blanchett then cautioned against treating social media, which has been instrumental in the spread of the #MeToo and Time's Up movements, as the end all be all. "Social media is fantastic about raising awareness about issues, but it's not the judge and jury," the actress said. "And so I feel that these things need to go into court, so that if these abuses have happened, that the person is prosecuted and so someone who is not in the shiny industry that I am can use that legal precedent to protect themselves. Because always, in my industry or any other industry, they're preyed upon because they're vulnerable."
Although Blanchett did not say whether she regrets working with the director, who has been accused of molesting his daughter Dylan Farrow, several other Allen collaborators have done so. Greta Gerwig, who appeared in the 2012 Allen film To Rome With Love, said she would not have worked with him had she known about the allegations, and will not work with him again. Meanwhile, Timothée Chalamet said he could not discuss his decision to work with the director on A Rainy Day in New York due to contractual obligations, but pledged to donate his salary to several charitable initiatives, including Time's Up.