Chanel Iman Announces She Is Pregnant With Her First Child With Sterling Shepard
That's one way to celebrate Mother's Day.
---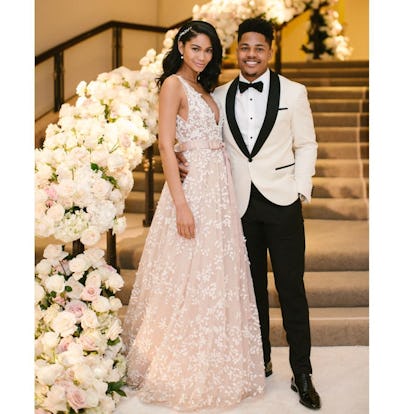 @chaneliman
Just five months after she announced her engagement to New York Giants wide receiver Sterling Shepard and two months after their surprise wedding, Chanel Iman has revealed she is pregnant with their first child. She posted a black-and-white photo of her emerging baby bump to Instagram Sunday, captioning, "Daddy and Mommy can't wait to meet you. As I approach motherhood I want to wish a Happy Mother's Day to all the mothers and mommies to be." What a convenient day for a pregnancy announcement. She also tagged Shepard, photographer James Macari, stylist Monica Rose, and makeup artist Patrick Ta.
In a second post just a few minutes later, Iman offered up two more photos from the same shoot—this time, both with husband Shepard. In the first, they lie intertwined on the floor; in the second, they perch on a stool. Both are topless, wearing distressed, loose-fitting jeans and Calvin Klein underwear. (Though it looks peak #MyCalvins—I pregnancy-announce in my Calvins—it appears the shoot isn't actually branded, but good for Raf Simons, getting some free spon con.) "We are both blessed in many different ways, that our love has created a wonderful new life and can't wait for this ultimate blessing to arrive," she wrote. "We thank God for allowing us this opportunity to become parents and can't wait to hold our baby in our arms!" Also according to her Instagram, she's Chanel Iman Shepard now.
Shepard also reposted the second of the three images, captioning much more simply, "My baby is making my baby! Happy Mother's Day @chaneliman I love you mama."
The two got engaged in a cute waterfront exchange the day after Iman's 27th birthday back in December. (Shepard is 24.) Their wedding took place in March at Los Angeles's Beverly Hills hotel; guests included Chrissy Teigen, fellow Victoria's Secret model Jourdan Dunn (who, along with Rachel Hilbert, was also among the first of Iman's peers to comment on her Instagram announcement, wishing her congratulations), a host of NFL stars in the groom's party, and Tiffany Haddish, who delivered a memorable toast to the newlyweds on the eve of the Oscars. "I knew you could take care of any man you decided to take care of, and I'm glad you decided to take care of that one because I can see his soul," Haddish said. Then, she turned to Sterling: "You better worship the ground she walk on 'cause she's got a gangster-ass b-tch that got her back." Tiffany Haddish, godmother?
Related: Chanel Iman Takes Cannes in Couture