Charlize Theron Discusses the Possibility of Playing the Next James Bond
The internet is already writing the screenplay.
---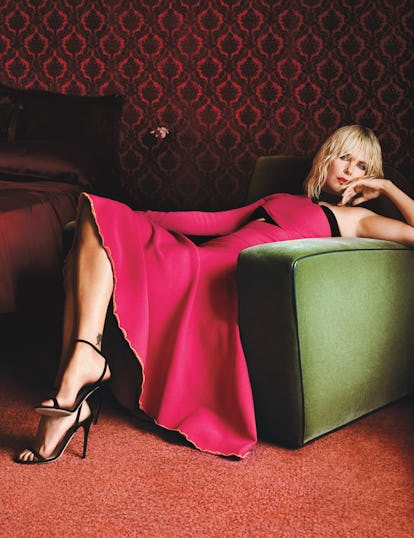 Photographs by Alasdair McLellan, Styled by Edward Enninful
It was just a humble suggestion when we pointed out that Charlize Theron would be the perfect candidate to be the first female James Bond, but now even The Tonight Show and Jimmy Fallon is on board.
During Theron's recent appearance on Tonight, Fallon brought up W's article mentioning that Theron should play the next James Bond, enthusiastically endorsing it. "We are onboard. We are all onboard. This should happen, that should be a thing," he said. And when Fallon asks Theron if she would consider it for real, the actress responded that she would need a sidekick, to which Fallon says, "I will be the Bond girl if you want me to. If this is what's happening, I'll audition."
And what would his character's name be? Fallon came up with "Dickie Galore," of course (though he'll definitely have stiff competition. Theron noted she'd be open for a Bond girl of her own; and Irina Shayk has already previously offered her services. Now comes some rumors that Bond producers are actually interested in Cara Delevingne for a future role in the franchise.
In any case, Fallon joins the ranks of many eager fans dying for the role reversal. The idea got a stamp of approval from Daniel Craig, the current Mr. Bond, as well as Theron's Snow White and the Huntsman costar Chris Hemsworth, who originally backed the idea. Hemsworth told W's Lynn Hirschberg, "She' embodies every sort of ounce of strength and nobility and dignity and integrity that that character should have."
These things seem to have a way of coming to life in 2017. Recently, when a Twitter user imagined the backstory inspired by a photo of Rihanna and Lupita Nyong'o sitting side by side at a Miu Miu fashion show in 2014, Netflix picked it up for production. One never knows.
Related: Charlize Theron Wows in Dior at the Atomic Blonde Premiere
Charlize Theron Talks Bond and Atomic Blonde:
10 Bad-Ass Designer Looks For Charlize Theron's 007
Simone Rocha's fall collection centered around the ideas of female strength, and she was not the only designer in thinking about that theme in the wake of our current political climate. Theron would make a chic and strong Bond in this cream tailored jacket with cargo pockets.
Bond must always have an evening look, and Theron could opt for this Loewe fall look. With a daring neckline and strong silhouette, 007 could wear this to the opera, a gala, or whatever other black-tie event she may wish to attend.
Louis Vuitton's fall collection was chock full of fashion-forward pieces. This tough, cinched-waist look in all black would be exactly what Bond would wear if she found herself needing to investigate something in New York.
New York-based label Alyx offers an edgy take on Le Smoking, a female Bond's version of 007's classic tux.
A futuristic feeling was prevalent at many other fall shows, most notably at Paco Rabanne and Chanel. This chic silver lame long-sleeved shirt and tailored pant from Paco Rabanne would be a look that the female Bond of the future could easily wear with confidence.
Ashley and Mary-Kate Olsen of The Row have perfected modern tailoring for today's women. This jacket and pant pairing would be a go-to for Theron's Bond.
Denim is the woman of today's uniform of choice. If Theron's Bond found herself in Paris, this Dior look would help her fit in – and look chic – all at the same time. Extra points for this look's cross body bag. Bond would never let a handbag hold her back.
Bond is sexy and always put together, and so of course Theron would be the same – a cropped leather jacket from J.W. Anderson would be an edgy, fashion-approved look for an evening out on the town.
Raf Simons created a Canadian tuxedo in all leather for CALVIN KLIEN, and it is the modern take on the all-leather catsuits that female leads in adventure films often wear. Also, practical shoes – Theron as Bond would kill in these major cowboy boots.
Céline makes a good coat, and Bond would of course know that. Theron's Bond would opt for this look, and the knee-high boots would certainly come in handy.