Timothée Chalamet and Kristen Stewart Agree: Chartreuse Is the New Slime Green
Summer's favorite trend is getting sophisticated for fall.
---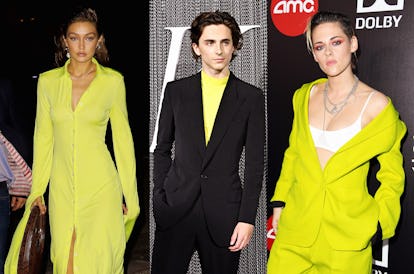 Getty Images
Blame it on Billie Eilish, but at a certain point this summer, seemingly everything became slime green. Midway through July, the poster child of Gen Z dyed her roots the exact shade that, in the weeks to come, also turned up everywhere from the streets of Copenhagen to an entire Louis Vuitton store to the runways of London Fashion Week. And then something changed: Over the course of a single day—perhaps, tellingly, the first day of a new month—stars as disparate as Timothée Chalamet, Hilary Duff, and Emma Chamberlain all wore the same shade of green. And yet, it wasn't slime: It was slime green's markedly more mature cousin, i.e., chartreuse.
Normally it's hard to trace the roots of a trend, but in this case, it's indisputable: Normani was the first to venture into uncharted waters when she boarded a chartreuse jet ski—and wore a chartreuse Chanel one-piece—all the way back on May 30.
It wasn't immediately apparent, but Normani had laid the groundwork for a movement. The nearly two months that followed saw slime green reign supreme, unwittingly setting the stage for Rihanna to replace it with her own sophisticated take. Like the rest, she'd been wearing slime green, but in July, she made the leap—naturally, by launching a new campaign for Fenty Beauty.
And yet, slime green was still popping up throughout New York Fashion Week. Still, Ashley Graham apparently managed to remember that Rihanna had moved on: There was nothing neon about the green eye shadow she wore to Rihanna's runway show for Savage x Fenty.
When Rihanna moved on to Paris Fashion Week, this time with a Fenty after-party, Gigi Hadid knew what to do: She, too, wore chartreuse, in the form of a Coperni dress with oversize sleeves.
Back in Los Angeles, Kristen Stewart was thinking similarly. Less than 24 hours after Hadid, she gave chartreuse a go in the form of a Petar Petrov suit. Meanwhile, Justine Skye made sure that the trend was still popping up on the East Coast.
It's a testament to chartreuse's understated elegance that its takeover was never obvious. But ever since October began, it's been unavoidable. Tuesday was an unprecedented day for the color, starting with the young YouTube legend Emma Chamberlain, who attended Louis Vuitton's spring 2020 show in Paris carrying a bag that she described as "the most amazing shade of chartreuse."
Chamberlain, by the way, would know: She also wore chartreuse sunglasses the day before, as well as a head-to-toe nod to the color in late August.
Several hours later and thousands of miles away, Timothée Chalamet stepped out for the New York premiere of The King. As for how he decided to follow up on the Louis Vuitton ensemble that sent a seismic shock through his fan base last month, well, that would be with a hint of chartreuse.
Then, suddenly, Hilary Duff also got the memo. That same day, she Instagrammed a photo of herself wearing a blazer in the same hue, which she captioned: "Would you call this chartreuse???" Yes, and we'd also officially call it a trend.
Related: Timothée Chalamet's Suit Was the Real Star of the Venice Film Festival