Chicago West Stars in Kim Kardashian West's New KKW Beauty Campaign
The baby made her professional modeling debut on Instagram.
---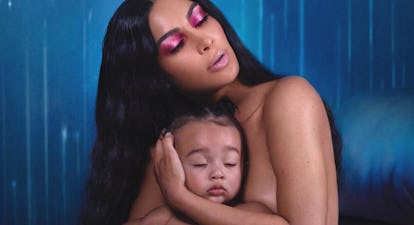 Instagram:kimkardashian
Chicago West: Instagram model? Baby Chi, the youngest daughter of Kanye West and Kim Kardashian West, has officially made her beauty campaign debut. She appeared in the latest promotional image for her mother's KKW Beauty line, resting comfortably in Kardashian West's lap, pressed against her chest. The picture, as with the entire campaign, was shot by the photographer David Lachapelle, and features KKW herself in a dreamy mermaid-meets-vaporwave atmosphere.
While it looks like Chicago isn't wearing any cosmetics (she is, after all, a tiny baby at only 9 months old), Kardashian's metallic magenta eyeshadow is bold and beautiful. She captioned the image, "My heavenly baby! Showing off the new pink shadows in the Flashing Lights Collection wearing Flashy and High Key available at KKWbeauty.com ? @david_lachapelle @samvissermakeup @chrisappleton1."
The rest of campaign has, so far, been composed of moody metallics and, occasionally, naked guys who apparently work out a lot.
Like this guy:
And this guy:
And then both guys teamed up:
Her eyeshadow brings all the boys to the yard, etc, etc.
Chicago's older sister, North, appears to be a makeup fan herself. Kardashian West recently posted a sweet snap of her wearing bright orange eyeshadow to match her outfit. How very Halloween.
The 5-year-old North is no stranger to modeling, either—she made her runway debut just last month, after all, at the L.O.L. Surprise! Fashion Show (a kid's fashion show in someone's backyard, FYI) while mom cheered her on. And let's not forget that she also went to design camp this last summer. Can't wait to see her new Yeezy collection.
Meanwhile, the other beauty mogul in the family, Kylie Jenner, hasn't yet put her daughter, Stormi, in any advertisements, but maybe the 8-month-old is more of a behind-the-scenes creative type. You have to play to each baby's strengths.
Related: Kim Kardashian Says Marrying Kanye West Made Her "Little Bit Not-So-Independent"
Kim Kardashian's Best Halloween Costumes Through the Years
Kim Kardashian at the Pur Jeans Halloween Bash in Los Angeles on October 31, 2008.

Mark Sullivan/Getty Images
Kris Jenner and Kim Kardashian, dressed as Superwoman, at Kim's Halloween party, hosted by PAMA in Los Angeles on October 30, 2008.

Getty Images
Kim Kardashian dressed as a cheetah for Halloween on October 31, 2010.

Getty Images
Kim Kardashian at Heidi Klum's Halloween party in New York City on October 31, 2010.

Michael Loccisano/Getty Images
Kim Kardashian dressed as Poison Ivy at the Midori Green Halloween costume party in New York City on October 29, 2011.

Dave Kotinsky/Getty Images
Kim Kardashian as Catwoman at her Halloween party in Miami Beach on October 31, 2012.

Alexander Tamargo/Getty Images
Kim Kardashian as a mermaid at the second annual Midori Green Halloween Party in New York City on October 27, 2012.

Michael Stewart/Getty Images
Kim Kardashian dressed as a skeleton for Halloween on October 31, 2014.

Courtesy of @kimkardashian
Kim Kardashian dressed as Anna Wintour for Halloween on October 31, 2014.

Courtesy of @kimkardashian
Kim Kardashian and Jonathan Cheban dressed as Sonny and Cher at the Casamigos Halloween Party in Los Angeles on October 27, 2017.

Neilson Barnard/Getty Images
Kim Kardashian dressed as the pop star Selena for Halloween on October 31, 2017.

Courtesy of @kimkardashian
Kourtney Kardashian and Kim Kardashian dressed as Michael Jackson and Madonna at the 1991 Academy Awards for Halloween on October 31, 2017.

Getty Images
This year also saw Kardashian join the fleet of her sisters dressed as Victoria's Secret Angels.

Courtesy of @kimkardashian
Kim Kardashian dressed as Pamela Anderson circa 1999—and didn't shy from telling off the youngins who didn't recognize her.

Courtesy of @kkwarmy