Clarissa Explains It All Is Coming Back, but We Have Reservations
Nickelodeon may be rebooting Clarissa Explains It All with original star Marissa Joan Hart, this time as a parent.
---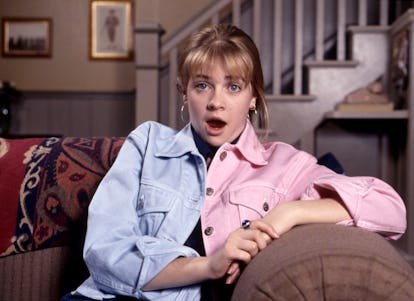 Courtesy Everett Collection
Clarissa Explains It All gave us one of the few legitimately cool characters to ever come out of tween-targeted television. Clarissa Darling wasn't some stuffy middle-aged cable executive's idea of what the kids thought was hip—she was surprisingly in touch with her times. Her style alone, with Keith Haring tees and polka-dot tights, put her in a tier of '90s TV style icon next to The Nanny's Fran Fine. She effortlessly pulled off the kind of outfits Absolutely Fabulous's Edina Monsoon did not, but Clarissa was more than her clothes. She was an alt-rock fan with a WFMU sticker in her locker, and a girl coder (long before Karlie Kloss) who used her computer skills to literally influence people. The show was also uncommonly political for a kid's program. Clarissa repeatedly imagined Chelsea Clinton as our future president, while her archenemy's little brother was explicitly identified as a young Republican who idolized Dan Quayle. Perhaps most important, the show, which was Nickelodeon's first live-action series to feature a female protagonist, proved that a girl-led series could attract sizable viewership from both girls and boys.
So the news that Nickelodeon is in the early stages of developing a revival of the show, with the original star, Melissa Joan Hart, and the series creator, Mitchell Kriegman, on board, comes with mixed emotions. The plan follows the format of rebooted revivals of other millennial touchstone programs like Boy Meets World and That's So Raven, with Clarissa all grown up and a mother to tweenage children who are now the ones explaining it all to their generation.
On one hand, it is wonderful to think that the show's magic may be reborn and shared with a new generation.
On the other, much more selfish hand, it is completely freaking me out to think that Clarissa Darling is now the mother to at least one teen or tweenaged child of her own. It's not that the ages make it impossible. Using the actual actress's ages as a guideline, Clarissa would now be 41, and actually quite a bit older than both Topanga Lawrence-Matthews and Raven Baxter.
Now, there's nothing wrong with having children on a traditional schedule, but Topanga, Raven, Clarissa, and their peers were relatable characters that now-20- and 30-somethings grew up with. Although they were the characters who let us know it was okay to be our own people and do things on our own schedule, it turns out that they became people who settled down early and posted baby pictures on Facebook. A few, sure. But, like, all of them? Really? This feels unrealistic. Large chunks of the generation those characters inspired continue to have children later in life, and might be more stressed about their roommates eating their leftovers than about putting food on the table for a family of three night after night.
Perhaps the sting is amplified by the publication of a follow-up novel published just two years ago by Kriegman. In Things I Can't Explain, Clarissa is imagined as a 20-something who has the journalism job of her dreams in New York until the 2008 economic downturn (and ensuing print media apocalypse) hits and her life is turned upside down. Sure, I didn't actually read it, but it was nice to browse the Amazon listing and get confirmation that Clarissa was still as relatable as ever. It let us imagine that perhaps Clarissa grew up to be the founding editor of a Jezebel-like site, or used her computer skills to develop a groundbreaking app.
Nickelodeon's reboot would presumably do away with the book's story, but we hope it doesn't settle on the idea of Clarissa marrying her childhood BFF Sam (more on him later), creating a story in which he goes off to the office every day while Clarissa has a side gig running a pudding café part-time or something. (No Topanga shade intended.)
Though, maybe we shouldn't fret too much. There are all sorts of ways the show could hold true to the original Clarissa character while simultaneously breaking new ground for children's television along the way. Maybe it's jumping the gun to assume she wound up with children in a traditional way. Perhaps Clarissa sold her eggs or served as a surrogate to help offset the cost of Columbia Journalism School and, through an Ally McBeal–esque twist of fate, the child ends up coming to live with her. Maybe Clarissa decided to adopt or foster older children (which, honestly, seems like something she'd do). If Ferguson grew up to be a rather Stephen Miller–esque figure, maybe he wound up in jail for something like election fraud or obstruction of justice, and Clarissa stepped in to raise his surprisingly woke daughter in the interim.
As for Sam, the best friend Clarissa never dated because it just didn't feel "right," well, listen: He just climbed up into her room regularly with a ladder and every adult involved thought, "Eh, there's probably nothing we have to worry about here." He ended up going off to beauty school in the final episode. I'm not saying it's canon he's gay, but it's not not canon. Guest appearances by a gay uncle figure on a Nickelodeon show would certainly be something to celebrate.
Let's also hope that whatever teen is tasked with explaining it all to a new generation is as authentically cool as Clarissa was. In today's world, we imagine that would involve reading Teen Vogue, vigorously discussing the possible bisexuality of her favorite pop star, standing up for gun control, figuring out a way to sneak out of a family gathering because she has Lil Yachty tickets, and inventing apps to explain how annoying their alt-right little sibling is.
Related: A Definitive Ranking of Every Kardashian-Jenner Music Video Cameo