Coco Gordon Moore, Kim Gordon's Daughter, Made Her Runway Debut at Eckhaus Latta Decked Out in Aztec Clay
Plus, a nip slip the 23-year-old felt "whatever" about.
---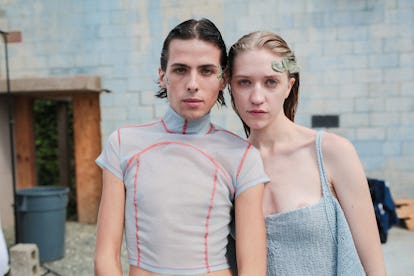 SERICHAI TRAIPOOM
"Um…I'm supportive," Kim Gordon said after a long hesitation when asked if she'd been encouraging when her daughter, Coco Gordon Moore, casually let it slip on the phone that she had "that thing" this Saturday, which turned out to be making her runway debut as a model at Eckhaus Latta's Spring 2018 show.
Gordon, who hadn't been planning on attending much of New York Fashion Week, of course then secured herself a ticket, arrived to the show promptly, and even craned her neck quite a few times toward the entrance before Moore finally walked out—and let another thing slip. The knit dress that designers Mike Eckhaus and Zoe Latta had outfitted her in turned out to be a bit loose when in motion; by the end of her turn on the zig-zag catwalk in a vaulted space in Bushwick, Brooklyn, "my nipple was out pretty much," as Moore put it after the show.
Not that Moore, who's a surprisingly normal 23-year-old, given that her parents are the founders of Sonic Youth—she lives in Bed-Stuy and describes herself as "more of a low-key, stay inside-type person"—cared very much: "I was kind of like, whatever, I can't do anything about it, and it's a fashion show."
And a fashion show with plenty more for showgoers to gawk at, at that: Gordon and the rest of the models, including the singer Kelela and the brand's mainstays Alexandra Marzella, Michael Bailey Gates, and India Salvor Menuez, also had Aztec clay masks streaked across their hair, faces, and backs, thanks to the brand's collaboration with Immunocologie.
"This reminds me of the artist Donna Huanca," Menuez said brightly as the hairstylist Holli Smith brushed a swath of clay across her forehead, having already slicked back her hair with an Oribe mist spray and water—the only beauty products used in the entire show.
Eckhaus and Latta typically go for an all-natural look with their models on the runway, but in a way, their idea to keep the clay visible, rather than wash it away, was even more real than their past looks: To achieve the appearance of a "face that was just scrubbed clean," like they usually showcase, Latta pointed out, "you can't really fake it unless you clean it," using products like masks.
The move was simply the pair's latest in bringing reality to fashion, after showing actual sex in their spring 2017 campaign; real-life, privately recorded confessions in their latest video; and, of course, as always, a wide range of ages, races, and genders in their cast.
The latter was particularly amplified this time around: A 60-year-old woman walking the show is, at this point, nowhere near surprising for the brand, but Eckhaus and Latta definitely outdid themselves when they cast the artist Maia Ruth Lee, knowing that she was more than eight months pregnant.
"The joke has been, is she gonna give birth at the show?" Latta said with a laugh. Lee's husband, the artist Peter Sutherland, was definitely in on the fun: He proudly Instagrammed his wife walking with her exposed belly and captioned it "Preghaus Latta," "trimester 17."
In other words, altogether, it was the usual scene, times 10, at Eckhaus Latta: "low-key, not just models, but artists and models and a family friend type vibe" was how Moore's agent summed it up to her—and convinced her to walk the show in the first place. And, thanks in large part to showgoers including art world names like Nate Lowman and the Whitney Biennial curator Christopher Y. Lew, as well as those like the New York Times critic Vanessa Friedman who brought along their children (or dogs) and held them on their laps, Moore wasn't disappointed: "It was definitely like that."
The brand does seem to have gotten increasingly to its core as of late thanks to the fact that they're now doing pre-collections—the first of which launched in May—where they can concentrate on market-friendly basics like t-shirts and denim. "It allows us to have the shows be more about pieces and our new explorations in making clothing," Eckhaus said. "We love clothes that are falling apart and exploring the idea of clothing that's not deconstructed or distressed, but evokes the idea of how a hole or flash or tear could emerge."
After their usual knits and denim pieces, which looked better than ever, and even some impressively tailored suits, that concept that was showcased particularly in the show's finale, which, preceded by three green sheer shirts, consisted of three completely sheer pieces with deliberate cut-outs, all in an even more see-through pale blue. In other words, Moore was hardly alone in showing off her nipples—and not seeming to mind at all about doing so. Everyone was, after all, amongst family and friends.
The Best Behind-the-Scenes Photos of New York Fashion Week Spring 2018
Inside the VFILES show on Wednesday, September 6th at Barclays Center during New York Fashion Week. Photographed by Serichai Traipoom for W Magazine.

SERICHAI TRAIPOOM
Inside the VFILES show on Wednesday, September 6th at Barclays Center during New York Fashion Week. Photographed by Serichai Traipoom for W Magazine.

SERICHAI TRAIPOOM
Inside the VFILES show on Wednesday, September 6th at Barclays Center during New York Fashion Week. Photographed by Serichai Traipoom for W Magazine.

SERICHAI TRAIPOOM
Inside the VFILES show on Wednesday, September 6th at Barclays Center during New York Fashion Week. Photographed by Serichai Traipoom for W Magazine.

SERICHAI TRAIPOOM
Kaia Gerber making her debut at Calvin Klein Show on Thursday, September 7th at the Calvin Klein headquarters during New York Fashion Week . Photographed by Serichai Traipoom for W Magazine.

SERICHAI TRAIPOOM
Inside the VFILES show on Wednesday, September 6th at Barclays Center during New York Fashion Week. Photographed by Serichai Traipoom for W Magazine.

SERICHAI TRAIPOOM
Inside the VFILES show on Wednesday, September 6th at Barclays Center during New York Fashion Week. Photographed by Serichai Traipoom for W Magazine.

SERICHAI TRAIPOOM
Inside the Calvin Klein show on Thursday, September 7th at Calvin Klein Headquarters during New York Fashion Week. Photographed by Serichai Traipoom for W Magazine.

SERICHAI TRAIPOOM
Inside the VFILES show on Wednesday, September 6th at Barclays Center during New York Fashion Week. Photographed by Serichai Traipoom for W Magazine.

SERICHAI TRAIPOOM
Inside the Adam Selman show on Thursday, September 7th at Skylight Clarkson during New York Fashion Week. Photographed by Serichai Traipoom for W Magazine.

SERICHAI TRAIPOOM
Tinashe at the VFILES show on Wednesday, September 6th at Barclays Center during New York Fashion Week. Photographed by Serichai Traipoom for W Magazine.

SERICHAI TRAIPOOM
Inside the VFILES show on Wednesday, September 6th at Barclays Center during New York Fashion Week. Photographed by Serichai Traipoom for W Magazine.

SERICHAI TRAIPOOM
Inside the VFILES show on Wednesday, September 6th at Barclays Center during New York Fashion Week. Photographed by Serichai Traipoom for W Magazine.

SERICHAI TRAIPOOM
Inside the VFILES show on Wednesday, September 6th at Barclays Center during New York Fashion Week. Photographed by Serichai Traipoom for W Magazine.

SERICHAI TRAIPOOM
Inside the Adam Selman show on Thursday, September 7th at Skylight Clarkson during New York Fashion Week. Photographed by Serichai Traipoom for W Magazine.

SERICHAI TRAIPOOM
Inside the Adam Selman show on Thursday, September 7th at Skylight Clarkson during New York Fashion Week. Photographed by Serichai Traipoom for W Magazine.

SERICHAI TRAIPOOM
Inside the Adam Selman show on Thursday, September 7th at Skylight Clarkson during New York Fashion Week. Photographed by Serichai Traipoom for W Magazine.

SERICHAI TRAIPOOM
Inside the Calvin Klein show on Thursday, September 7th at Calvin Klein Headquarters during New York Fashion Week. Photographed by Serichai Traipoom for W Magazine.

SERICHAI TRAIPOOM
Inside the Tory Burch show on Friday, September 8th at the Cooper Hewitt during New York Fashion Week. Photographed by Serichai Traipoom for W Magazine.

SERICHAI TRAIPOOM
Inside the Tory Burch show on Friday, September 8th at the Cooper Hewitt during New York Fashion Week. Photographed by Serichai Traipoom for W Magazine.

SERICHAI TRAIPOOM
Tory Burch SS18. Photographed by Serichai Traipoom for W Magazine.

SERICHAI TRAIPOOM
Inside the Tory Burch show on Friday, September 8th at the Cooper Hewitt during New York Fashion Week. Photographed by Serichai Traipoom for W Magazine.

SERICHAI TRAIPOOM
Inside the Tory Burch show on Friday, September 8th at the Cooper Hewitt during New York Fashion Week. Photographed by Serichai Traipoom for W Magazine.

SERICHAI TRAIPOOM
Inside the Tory Burch show on Friday, September 8th at the Cooper Hewitt during New York Fashion Week. Photographed by Serichai Traipoom for W Magazine.

SERICHAI TRAIPOOM
Inside the Brandon Maxwell show on Friday, September 8th at The Doubles Club during New York Fashion Week. Photographed by Serichai Traipoom for W Magazine.

SERICHAI TRAIPOOM
Inside the Brandon Maxwell show on Friday, September 8th at The Doubles Club during New York Fashion Week. Photographed by Serichai Traipoom for W Magazine.

SERICHAI TRAIPOOM
Inside the Brandon Maxwell show on Friday, September 8th at The Doubles Club during New York Fashion Week. Photographed by Serichai Traipoom for W Magazine.

SERICHAI TRAIPOOM
Inside the Brandon Maxwell show on Friday, September 8th at The Doubles Club during New York Fashion Week. Photographed by Serichai Traipoom for W Magazine.

SERICHAI TRAIPOOM
Inside the Brandon Maxwell show on Friday, September 8th at The Doubles Club during New York Fashion Week. Photographed by Serichai Traipoom for W Magazine.

SERICHAI TRAIPOOM
Inside the Brandon Maxwell show on Friday, September 8th at The Doubles Club during New York Fashion Week. Photographed by Serichai Traipoom for W Magazine.

SERICHAI TRAIPOOM
Related: How Models Ended Up Having Actual Sex in Eckhaus Latta's Spring 2017 Campaign
India Salvor Menuez's Version of Botticelli's "The Birth of Venus" Is Still Naked, but Much Snarkier: