Fashion Designers Sébastien Meyer and Arnaud Vaillant Are Leaving Courrèges, After Rebooting the Historic French Fashion House
In fashion's latest round of musical chairs, the French designers are opting to pursue "new creative projects" instead.
---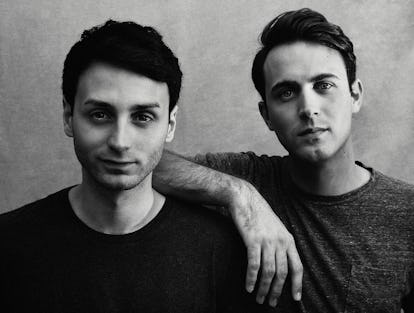 When Sébastien Meyer and Arnaud Vaillant made their debut at Courrèges at the Opéra Bastille in Paris in late 2015, it was hailed as the storied French house's second coming. Courrèges had long faded from its '60s glory—it even became an electric car brand in the early 2000s—but decades later, the two designers, then in their mid-20s, managed to inject some of the same excitement that permeated the city when the house's founder, André Courrèges, claimed to have invented the miniskirt.
Two years later, though, that liveliness seems to have come to a halt for the house once again: Courrèges announced on Thursday morning that Meyer and Vaillant are leaving the house after just two years, meaning both accomplished rebooting a heritage brand before even hitting 30. That's perhaps because the pair have a history of starting—and at least temporarily abandoning—buzzy brands: After meeting at Mod'Art International in Paris, the duo, both from souther France, began working together years on their label Coperni Femme, named after the mathematician and astronomer who discovered that the sun is at the center of the universe. (At the time, Vaillant also kept up his work in embroidery at Balenciaga—not that that stopped the pair from winning the First Collections Prize at ANDAM in 2014 and becoming LVMH Prize finalists in 2015.)
Backstage at Courrèges Spring 2016
Soon, though, they abandoned their fledgling line for one that was of course much larger—the one that revolutionized French fashion and the industry at large in the '60s when André Courrèges, aka the "Le Corbusier of couture," popularized everything from the Space Age aesthetic to miniskirts, as well as go-go boots and A-line dresses. Those elements were definitely present in Meyer and Vaillant's debut at the house in late 2015, with a spring 2016 collection that consisted of their takes on specific archival Courrèges items, rather than "full looks"—a concept the pair explained when they made the bold move out onto the runway to detail their offerings of suede pants and patent leather themselves. ("No one wears full looks anymore," Vaillant later told W.)
The collections that have followed have also paid homage to Courrèges's roots—and demonstrated the benefits of having 20-somethings at the helm of an aged and somewhat abandoned fashion house. Their latest—and last—collection, for fall 2017, was presented in the form of a lookbook rather than a runway show, to convey their clothing's optimism and youth, which may sound rather lackluster except that it was populated with some of the coolest names on the scene, from the model and Demna Gvasalia favorite Shujing Zhou to the Instagram-famous buyer Leila Yavari.
You're Going to Want to Follow Every Single Person In This Parisian Lookbook
Photographer based in New York.
Beauty editor based in London.
Communications consultant based in New York.
Fashion consultant based in Los Angeles.
Actress and model, based in Paris
Creative director based in Paris.
Art consultant based in Paris.
Buying director based in New York
And while they've showed a lack for setting trends, like once again re-popularizing that dependable miniskirt, this time around, the pair is following one by joining Chloé's Claire Waight Keller and Lanvin's Bouchra Jarrar in fashion's latest round of musical chairs and leaving the storied house to focus on "new creative projects," as the company, told the Business of Fashion, adding that the decision was mutual. Here's hoping that means Arnaud and Vaillant get to squeeze in some more time for karaoke, one of their favorite past times, before heading off to their new gig.
Related: A History of Fashion's Obsession with the Space Age, From Courrèges to Chanel
How Street Style Stars Do Paris Fashion Week: