Dakota Johnson And Chris Martin Were Spotted Having A Date Night Out
They went to Soho House in Malibu, obviously.
---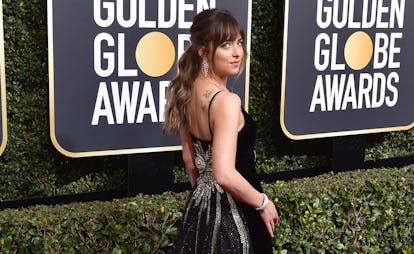 Photo by Axelle/Bauer-Griffin/FilmMagic
While Gwyneth Paltrow has officially announced her engagement, her ex-husband Chris Martin is moving on, as well.The lead singer of Coldplay was spotted out on Friday night with his rumored girlfriend Dakota Johnson, who is the star of the Fifty Shades franchise, daughter of Melanie Griffith, granddaughter of Tippi Hedren, and a truly underrated comedic actress.
Speculation has been swirling about the two low key lovebirds for months, sparked when Dakota made an appearance in a Coldplay concert in Argentina in November. They also attended a Nick Cave concert together in Tel Aviv that month. Now they've been spotted—where else?—in Malibu, dining at — where else? — Soho House. According to E! News, an eyewitness spotted the couple on January 12 and reported that "they arrived together in Martin's car and left together in the same vehicle. The two spent around two hours enjoying a meal and drinks." In December, the two were spotted together at Charles de Gaulle airport in Paris.
Johnson's next film, the final installment of the Fifty Shades trilogy, Fifty Shades Freed hits theaters this Valentine's Day weekend. Paltrow, meanwhile, is happily engaged to producer Brad Falchuk, and she and Martin continue to raise their kids Apple and Moses together. Now, time for a double date?
Related: The New Fifty Shades Freed Trailer Has a Major Plot Twist
See Cate Blanchett, Kris Jenner, Dakota Johnson, and All the Other Famous Faces in Milan Fashion Week's Front Row
Cate Blanchett attends the Giorgio Armani show during Milan Fashion Week Spring/Summer 2018 on September 22, 2017 in Milan, Italy. (Photo by Antonio de Moraes Barros Filho/WireImage)

Antonio de Moraes Barros Filho
ASAP Rocky arrives at the Gucci show during Milan Fashion Week Spring/Summer 2018 on September 20, 2017 in Milan, Italy. (Photo by Vittorio Zunino Celotto/Getty Images for Gucci)

Vittorio Zunino Celotto
Salma Hayek arrives at the Gucci show during Milan Fashion Week Spring/Summer 2018 on September 20, 2017 in Milan, Italy. (Photo by Vittorio Zunino Celotto/Getty Images for Gucci)

Vittorio Zunino Celotto
Petra Collins arrives at the Gucci show during Milan Fashion Week Spring/Summer 2018 on September 20, 2017 in Milan, Italy. (Photo by Vittorio Zunino Celotto/Getty Images for Gucci)

Vittorio Zunino Celotto
Dakota Johnson attends the Gucci show during Milan Fashion Week Spring/Summer 2018 on September 20, 2017 in Milan, Italy. (Photo by Venturelli/Getty Images for Gucci)

Venturelli
Kris Jenner attends the Fendi show during Milan Fashion Week Spring/Summer 2018 on September 21, 2017 in Milan, Italy. (Photo by Antonio de Moraes Barros Filho/WireImage)

Antonio de Moraes Barros Filho
Soko attends the Gucci show during Milan Fashion Week Spring/Summer 2018 on September 20, 2017 in Milan, Italy. (Photo by Venturelli/Getty Images for Gucci)

Venturelli
Yolanda Hadid attends the Moschino show during Milan Fashion Week Spring/Summer 2018 on September 21, 2017 in Milan, Italy. (Photo by Jacopo Raule/Getty Images)

Jacopo Raule
Lewis Hamilton attends the Giorgio Armani show during Milan Fashion Week Spring/Summer 2018 on September 22, 2017 in Milan, Italy. (Photo by Venturelli/WireImage)

Venturelli
Amber Valletta attends the Giorgio Armani show during Milan Fashion Week Spring/Summer 2018 on September 22, 2017 in Milan, Italy. (Photo by Venturelli/WireImage)

Venturelli
Princess Charlene of Monaco attends the Giorgio Armani show during Milan Fashion Week Spring/Summer 2018 on September 22, 2017 in Milan, Italy. (Photo by Antonio de Moraes Barros Filho/WireImage)

Antonio de Moraes Barros Filho
Charlene Wittstock attends the Versace show during Milan Fashion Week Spring/Summer 2018 on September 22, 2017 in Milan, Italy. (Photo by Venturelli/WireImage,)

Venturelli
Amber Valletta attends the Versace show during Milan Fashion Week Spring/Summer 2018 on September 22, 2017 in Milan, Italy. (Photo by Venturelli/WireImage,)

Venturelli
Kris Jenner attends the Versace show during Milan Fashion Week Spring/Summer 2018 on September 22, 2017 in Milan, Italy. (Photo by Jacopo Raule/Getty Images)

Jacopo Raule
Alessandro Michele attends the Versace show during Milan Fashion Week Spring/Summer 2018 on September 22, 2017 in Milan, Italy. (Photo by Venturelli/WireImage,)

Venturelli
Cara Santana and Jesse Metcalfe attend the Salvatore Ferragamo show during Milan Fashion Week Spring/Summer 2018 on September 23, 2017 in Milan, Italy. (Photo by Tristan Fewings/Getty Images)

Tristan Fewings
Lewis Hamilton attends the Missoni show during Milan Fashion Week Spring/Summer 2018 on September 23, 2017 in Milan, Italy. (Photo by Jacopo Raule/Getty Images)

Jacopo Raule
Suki Waterhouse, Maddi Waterhouse and Immy Waterhouse attend the Salvatore Ferragamo show during Milan Fashion Week Spring/Summer 2018 on September 23, 2017 in Milan, Italy. (Photo by Tristan Fewings/Getty Images)

Tristan Fewings
Cameron Dallas attends the Dolce & Gabbana show during Milan Fashion Week Spring/Summer 2018 on September 24, 2017 in Milan, Italy. (Photo by Venturelli/Getty Images for Dolce & Gabbana)

Venturelli
Talita Von Furstenberg attends the Dolce & Gabbana show during Milan Fashion Week Spring/Summer 2018 on September 24, 2017 in Milan, Italy. (Photo by Venturelli/Getty Images for Dolce & Gabbana)

Venturelli
Delilah Belle Hamlin attends the Dolce & Gabbana show during Milan Fashion Week Spring/Summer 2018 on September 24, 2017 in Milan, Italy. (Photo by Venturelli/Getty Images for Dolce & Gabbana)

Venturelli
Corinne Foxx attends the Dolce & Gabbana show during Milan Fashion Week Spring/Summer 2018 on September 24, 2017 in Milan, Italy. (Photo by Venturelli/Getty Images for Dolce & Gabbana)

Venturelli