Demi Lovato Receives Love and Support From Selena Gomez and Ariana Grande's Moms After Apparent Overdose
There's no shortage of love for Lovato as she recovers.
---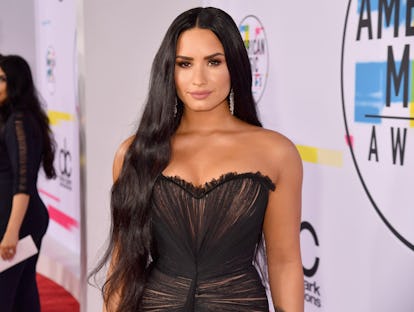 Jeff Kravitz/AMA2017/FilmMagic for dcp
There is no shortage of love for Demi Lovato, as many of her peers and friends reminded the world yesterday after the pop singer apparently overdosed and was revived with the opioid-reversing drug Narcan. Now, some of those celebrity friends' mothers have reached out to Lovato to offer their love and support, like Selena Gomez's mom, Mandy Teefey, and Ariana Grande's mom, Joan Grande.
Teefey shared a throwback photo of Lovato and Gomez on Instagram, writing, "This was exactly 10 yrs ago at S, Sweet 16. @ddlovato we love you. The world is a better place because of these infectious smiles. My heart hurts." While Gomez herself has yet to publicly address the incident, according to sources close to her, she "has reached out to Demi's family members to share her love and prayers, and she is really distraught about her health," as E! News reports. "She hates that Demi has been suffering."
After Ariana Grande tweeted at Lovato yesterday to say, "I love [you]," her mother, Joan, posted her own loving note. For Joan Grande, the idea of an overdose is personal, as she's spoken before about supporting her son, Frankie, who has written about his own alcohol and prescription drugs addiction in the wake of Ariana Grande's Manchester concert that was the target of a terrorist attack. "I am knocked down, over Demi, I hope and pray that she recovers quickly and finds sobriety again," she wrote on Twitter. "It is work, hard work, but with support and love, she will succeed! I know it, we are there for her in any way."
Grande also revealed that Lovato supported Frankie while he was facing addiction. "She is a sweet, kind person, who has in my personal experience always shown love to everyone in my world," she wrote. "She was there for Frankie during his work with sobriety.. & as we know he just celebrated his ONE year. She has always been so supportive of Ariana as well, sharing her experiences with the fame and celebrity and notoriety of growing up in a very public space….women supporting women, what a fabulous idea! Yes, it can happen and does!"
Grande also asked for compassion for Lovato. "Let's try to be nice to everyone, let's try to remember that we are ALL human and no one is better than the other," she wrote, "let's try to share love and light, let's not pass judgement."
Lovato's family issued a statement yesterday, writing, "Demi is awake and with her family who want to express thanks to everyone for the love, prayers and support. Some of the information being reported is incorrect and they respectfully ask for privacy and not speculation as her health and recovery is the most important thing right now."