Unraveling Kim Kardashian West and Rhymefest's Twitter Feud Over Donda's House
How did Drake get pulled into this? And what does Chrissy Teigen have to do with it?
---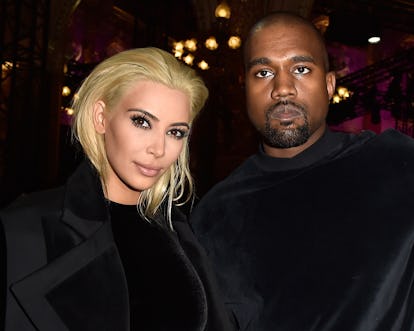 Pascal Le Segretain/Getty Images
In 2011, several years after the death of his mother, Donda West, but before his marriage to Kim Kardashian, Kanye West along with fellow Chicago rapper Rhymefest and activist Donnie Smith set up Donda's House, a nonprofit aimed at providing arts education and mentorship to underprivileged young people in the city. It's one of the quieter projects with which West has been associated—Rhymefest frequently retweets updates from the organization's Twitter account, but it's certainly overshadowed by the all-caps DONDA think tank of mysteries that is responsible for most of West's innovations. Still, staffers of Donda's House felt suffered in the wake of West's comments aligning himself with President Donald Trump, prompting it to issue a statement Friday.
"While we cannot and do not speak for Kanye West and his views, we can and will speak up for the youth that we serve. We ask that those who feel hurt, angered by, or frustrated with Kanye West not penalize or throw away their support, respect, and advocacy for us," the statement read, according to Pitchfork. (The Donda's House website, at the time of publication, was overloaded by traffic.) "We ask that as you boycott and protest Kanye West, that you not forget that we are a nonprofit organization that like other nonprofits needs donations, corporate support, and volunteers."
The statement set off a cascading reaction that, today, resulted in Donda's House announcing it would no longer use the name of West's late mother in order to distance itself from the social media feud between Kim Kardashian West and Rhymefest (with Drake pulled into the fray for good measure).
To recap: On Saturday, Drake posted an invoice, directed at West's G.O.O.D. Music, in the sum of $100,000 for "promotional assistance and career reviving." Rhymefest replied on Twitter, asking Drake, "when G.O.O.D. Music sends the money they owe you, will you please help us rebuild Kanye's mother's house for the youth of Chicago. I spoke to Kanye about it. His response was 'f–k the youth of Chicago.'" Kardashian West instantly, and furiously, weighed in, firing off a series of tweets (replete with typos because "typing while pissed will do this to you") in which she accused Rhymefest of trying to profit off of his relationship to West. The rapper responded once again, in the form of a screen-capped note, counteraccusing West and Kardashian West of having abandoned Donda's House.
"We will continue from our home on the South Side of Chicago to do what we can to support the community we've worked five years to build in spite of you & Kanye's lack of interest or support," Rhymefest wrote. It's just that now, Donda's House is going to be doing it, minus the Donda name.
While Donda's House might be stepping away from the West-Kardashian-Rhymefest drama, Chrissy Teigen is watching avidly. When Kardashian began filling her timeline with furious tweets, Teigen responded with a simple gif: an image of Kardashian peering out from behind some bushes, clearly listening in on the drama.
Related: Kim Kardashian West Goes Blonde in Honor of Her and Kanye West's Wedding Anniversary
It's Gemini Season for Angelina Jolie, the Olsen Twins, and (Yes) Kanye West
Naomi Campbell, born May 22nd, photographed by Steven Klein for W Magazine.

Steven Klein
Natalie Portman, born June 9th, photographed by Steven Klein for W Magazine.

Steven Klein
Carey Mulligan, born May 28th, photographed by Alasdair McLellan for W Magazine.

Alasdair McLellan
Helena Bonham Carter, born May 26th, photographed by Inez van Lamsweerde and Vinoodh Matadin for W Magazine.

Inez van Lamsweerde and Vinoodh Matadin
Angelina Jolie, born June 4th, photographed by Steven Klein for W Magazine.

Steven Klein
Kanye West, born June 8th, photographed by Mario Sorrenti for W Magazine.

Mario Sorrenti
Nicole Kidman, born June 20th, photographed by Tim Walker for W Magazine.

Tim Walker
Mary-Kate Olsen, born June 13th, photographed by David Sims for W Magazine.

David Sims
Adriana Lima, born June 12th, photographed by Charlotte Wales for W Magazine.

Charlotte Wales
Annette Bening, born May 29th, photographed by Craig McDean for W Magazine.

Craig McDean
Octavia Spencer, born May 25th, photographed by Mario Sorrenti for W magazine.

Mario Sorrenti
Julianna Margulies, born June 8th, photographed by Nathanial Goldberg for W Magazine.

Nathanial Goldberg
Kate Upton, born June 10th, photographed by Mert Alas and Marcus Piggott for W Magazine.

Mert Alas and Marcus Piggott
Chris Evans, born June 13th, photographed by Mario Sorrenti for W Magazine.

Mario Sorrenti
Kat Dennings, born June 13th, photographed by Inez Van Lamsweerde and Vinoodh Matadin for W Magazine.

Inez Van Lamsweerde and Vinoodh Matadin