Meet Douglas Smith, Your Newest Big Little Lies Cast Member
Douglas Smith joins the second installment of Big Little Lies as a baby-faced surfer and marine biologist.
---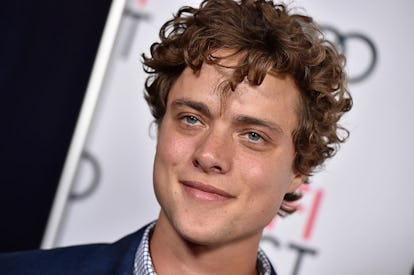 Axelle/Bauer-Griffin/Getty Images
The time has come to meet yet another new Big Little Lies character: In the second season of the HBO series, audiences will be introduced to Corey Brockfield, "an off-beat surfer" played by Douglas Smith.
According to Deadline, Corey Brockfield is also an "aspiring marine biologist" who will be joining Jane (Shailene Woodley) at her place of work. The news comes after the addition of Meryl Streep as Mary Louise Wright, the mother of Alexander Skarsgård's villainous Perry Wright, to the cast. Season two of the Emmy-winning series has already begun production, with Laura Dern, Nicole Kidman, Zoë Kravitz, and nearly every major cast member from the first installment returning for another round.
Though his character may be new to the Monterey milieu, Smith himself is not a newcomer—he has appeared in several films and television series since he began acting, in 1996, first appearing on an episode of The X-Files—and has a recognizable face that may leave audiences asking themselves where they've seen him before.
For starters, the Canadian actor was most recently spotted on The Alienist, TNT's sci-fi serial killer saga set in 1896, as NYPD detective sargeant Marcus Isaacson. Smith also gained recognition for his portrayal of Ben Henrickson on HBO's polygamist suburban saga Big Love for five seasons—and on HBO, is there really much difference between love and some little lies just as long as they're big?
Smith has also showed up on the small screen in the limited series When We Rise, Dustin Lance Black's retelling of the gay rights movement, and in Vinyl, the short-lived HBO drama about New York City's gritty 1970s record executives, helmed by Martin Scorsese. Acting runs in the Smith family; Douglas is the younger brother of Gregory Smith, known for breaking hearts in the Disney Channel's Zenon: Girl of the 21st Century before landing a role as a series regular on The WB's Everwood and again on ABC's Rookie Blue.
For the new season of Big Little Lies, perhaps art will imitate Smith's real life. In December 2017 he posted a photo of himself wearing a wet suit and doing a handstand on a surfboard by the beach, so playing Jane's baby-faced beach-bound co-worker shouldn't be too much of a stretch; and he's already acted opposite Kravitz, in a 2013 romantic comedy called Treading Water.
Not many other plot details have been teased with regard to Corey Brockfield, but it's likely that he could also pose as a love interest for Jane, and it'll only be a matter of time before the Monterey moms find themselves getting a little too involved in this character's life for their own good.
Related: Reese Witherspoon Shares First Behind-the-Scenes Photo From Big Little Lies Season 2