Shailene Woodley Looks Unrecognizable With Her New Black Bangs
Is Jane pulling a Dark Betty on Big Little Lies season 2?
---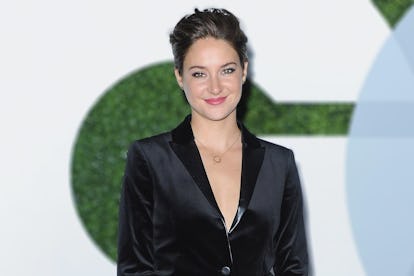 Getty Images
The filming for Big Little Lies season two is currently underway, and a major hair change from one of the leads could indicate a darker direction for everyone's favorite affluent beachside drama. A week after Shailene Woodley announced her return to the role of Jane Chapman with some dark brown hair dye and an Instagram post, she switched things up again with an even more drastic makeover. As StyleCaster noticed, the actress showed up at Bruna Papandrea's Made Up Stories launch party with jet-black hair and blunt bangs.
Assuming that Woodley did not wrap up her scenes in just one week or recently discovered wigs, the new hairdo is likely a makeover for Jane, who spent a good deal of last season in brandless athleisure and a no-nonsense ponytail. While sometimes a makeover is just a makeover, on TV, it rarely is. From clique-hopping glow-ups to espionage-enabling disguises, on-screen makeovers usually mean something. Considering its resemblance to a certain girl next door's dark alter ego on Riverdale, could Woodley's new look indicate a similar descent into edginess for Jane?
With Big Little Lies part two scheduled to debut some time in 2019, it'll be quite some time before we know for sure. As for the second season's non-follicular storylines, all we know so far is that Meryl Streep will be joining as the mother of Perry (Alexander Skarsgård), who fell to his death last season after being pushed by Bonnie (Zoë Kravitz). According to HBO, Streep's character will arrive "concerned for the well-being of her grandchildren following her son Perry's death and on the hunt for answers." Bonnie's parents will also make an appearance (is Angela Bassett free?), and Nicole Kidman, Laura Dern, and Reese Witherspoon will all reprise their roles. Aside from that, HBO has been keeping the plot tightly under wraps. However the story turns out, 2019 cannot come soon enough.
Related: Bella Hadid Debuts Her Latest Take on Bangs
Shailene Woodley's Style Evolution, from California Chic to Hollywood Glamour
The super adorable actress made her first red carpet appearance in 2006 at the American Girl Store Opening. She kept her look super cute and youthful in a cream quarter length cardigan, green multi-colored t-shirt, black cropped pants and golf metallic ballet flats.

Getty Images
At the 2008 Teen Choice Awards, Shailene debuted her new bohemian style opting for a simple white strapless maxi dress. She completed her looks with a pair of gold flat sandals and layered long beaded necklaces for a n extra touch on boho flair.

Getty Images
"The Secret Life of an American Teenager" star showed off her incredibly long stems at the 2009 Teen Choice Awards. Wearing a mutli-colored blouse, grey high waist shorts, red corset belt and black peep-toe sandals, she looked cool and playful.

Getty Images
While attending the 2010 MTV Movie Awards, Shailene kept her look simple and cute as she wore a classic LBD and metallic peep-toe pumps.

Getty Images
The young starlet attended the Teen Vogue 8th Annual Young Hollywood Party wearing a super sweet slik blush mini-dress. She accessorized her looks with a thin gold belt, ivory pumps and a small black clutch bag.

Getty Images
At the LA premiere of her breakout movie 'The Descendants', the actress opted for a floral strapless frock – featuring a strapless sweetheart neckline, cinched waist and mid-length ball skirt. She kept her accessories very minimal and paired her look with a black satin pump.

Getty Images
Shailene went for a more conservative chic look as she attended the 2011 Women in Entertainment Breakfast. The pairing of this black and white Prabal Gurnung dress with the black Rachel Zoe pumps was appropriately formal for the event.

Getty Images
The starlet looked stunning dressed in a strapless Marchesa gown on the red carpet of the 2012 Golden Globes. As she was up for the award for supporting actress that evening, it was only right that she arrived in a show stopping number like this.

Getty Images
Shailene arrived to the 2012 Oscar party looking flawlessly fresh faced dressed in a Proenza Schouler mini-dress. She paired her look with a pair of yellow suede peep-toe pumps that matched her perfectly.

Getty Images
The actress kept things fun and sassy at the 2013 MTV Awards. Her black crop top and multi-colored embellished mini-skirt paring was perfect for the eventful award show as well as any date night look.

Getty Images
At the Elle Celebrates 20th Annual Women in Hollywood Event, Shailene opted for a mature yet minimal look with a Calvin Klein original dress and black strappy sandals. She wore little to no accessories to compliment the simplicity of this look.

Getty Images
It was almost too easy for the startlet to standout amongst the stars at the 2014 Met Gala. Dressed in a gorgeous mixed-media Rodarte original, Shailene glowed and became one the evenings best dressed celebs as she posed on the red carpet.

Getty Images
At the 2014 GQ Men of the Year Party, Shailene dressed for the theme and donned a black velvet Gucci paint suit with leather peak lapels. She completed her look with black Ruthie Davis pumps and a simple gold necklace.

Getty Images
The Divergent star was the center of attention at the 22nd annual Elle Women in Hollywood Awards when she arrived dressed in a white and black Calvin Klein one-shoulder jumpsuit. While staying true to her minimal style she's the master of switching up her look.

Getty Images
At the NY premiere of 'Allegiant' Shailene looked fabulous as she donned yet another jumpsuit on the red carpet – this one being a bit more glamour than the last. This black Ellie Saab look featured flared pants legs and black embellishments on the full look.

Getty Images
Trying out a new look at the 2nd Annual Instyle Awards, the actress rocked a halter Sophiie Theallet dress, which featured a metallic gold peplum, sequined bodice and floral printed skirt. She accessorized this look with green strappy pumps, a simple gold bracelet and gold hoop earrings.

Getty Images