Emma Watson Was Spotted Kissing Tech CEO Brendan Wallace on Vacation in Mexico
The notoriously private actress was spotted kissing her new man in Mexico.
---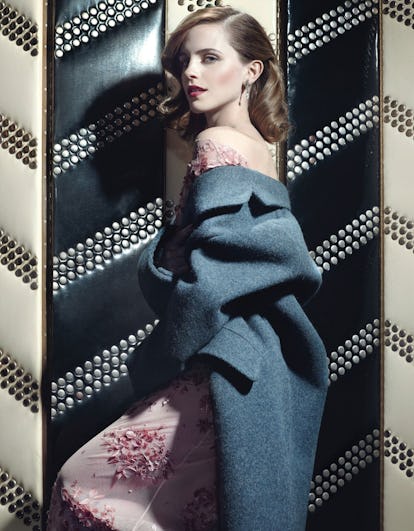 Photograph by Michael Thompson for W Magazine.
Incredibly, Emma Watson has managed to grow up in front of the public without any missteps. That's largely due to the serious actress' poise and maturity, and likely in part how private she is. Watson rarely talks about her personal life or puts it on display. But was spotted doing so recently on vacation in Mexico, where she was photographed kissing a new love interest in the wake of her breakup with Chord Overstreet.
After a rumored relationship with the Glee actor, Watson appears to be back to dating non-famous tech bros (apparently, she's not down with the recent art bro trend). Watson, who previously shared a two-year relationship with a tech manager, William Knight, is spending time with another tech guy. Brendan Wallace is the name of the person she was seen locking lips with, per The Daily Mail, who has a background in apps. He's the co-founder of Cabify, Latin America's most popular rideshare service, as his Fifth Wall bio points out, at which he's also a co-founder and managing partner. Wallace and Watson also share similar Ivy League backgrounds: She went to Brown and he went to Princeton and Stanford for graduate school.
Don't expect Watson to address whatever their relationship status is any time soon, though. In one of her last major interviews, Watson told Vanity Fair that she refuses to talk about her love life. "I've noticed, in Hollywood, who you're dating gets tied up into your film promotion and becomes part of the performance and the circus," she said. "I would hate anyone that I were with to feel like they were in any way part of a show or an act." She also added, "I can't talk about my boyfriend in an interview and then expect people not to take paparazzi pictures of me walking around outside my home. You can't have it both ways."
More recently, though, Watson talked about how apprehensive she is to let the public in on her private life. "The story of my life has been of public interest, which is why I've been so passionate about having a private identity," she told Jessica Chastain in Interview. "When I step into a character, people have to be able to suspend their disbelief; they have to be able to divorce me from that girl. And not having everyone know every single intimate detail of my entire life is part of me trying to protect my ability to do my job well."
Related: The Rise of the Art Bro as Jennifer Lawrence and Other Celebrities' Preferred Boy Toys