How Kim Kardashian, Michelle Obama, and More Celebrated Father's Day On Instagram
Because what is a holiday without a perfectly curated Instagram?
---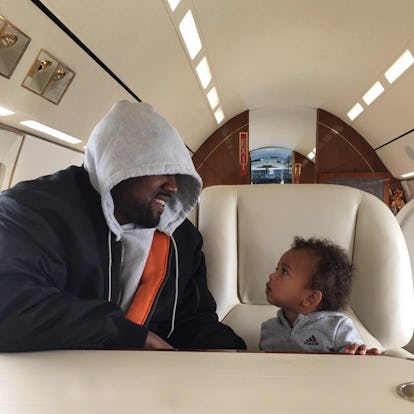 There are a few key ingredients to the perfect Father's Day festivities: family time, of course, a nice cook-out, a cold beer, perhaps even a round of golf. And, because it is 2017, the expertly curated, just sentimental enough Instagram post.
In this day and age, no holiday is complete without proof of celebration on social media, preferably a throwback photo that nods to the day at hand. For Father's Day 2017, the celebrity set certainly did not disappoint, with plenty of old pictures, weepy captions, and just enough hashtags populating your entire Instagram feed.
Michelle Obama nailed all three, posting an image of Barack with a young Sasha and Malia with the caption, "Happy #FathersDay, @BarackObama. Our daughters may be older and taller now, but they'll always be your little girls. We love you." Stella McCartney got in two celebrations out in one 'gram—today is also Sir Paul McCartney's birthday—writing, "Happy birthday and happy Father's Day dad….I am so blessed to have you in my heart and soul, you inspire every day. I love you x Stella."
Many moms went with two posts: one for their father, and one for the father of their children, such as Victoria Beckham, who posted an image of her dad, as well as one of David Beckham with their brood, writing, "The best daddy in the world!!! We all love u so, so much X kisses from us all x"
Kim Kardashian, meanwhile, opted for three posts, including two for Kanye—one for Saint, one for North, naturally—and one for her own father, Robert Kardashian. "God I am so lucky you were my dad. I remember right before you passed away I thanked you for everything u taught me & I told u I would raise my kids with everything I learned from you, whenever that time would come. Well I kept my promise dad! Thank you for being the best!" she wrote on the latter.
Here, a look at how the celebrity set celebrated Father's Day:
Kanye West Just Wants to Bring Joy to the World Like Will Ferrell in 'Elf'