Gigi Hadid Bleached Her Eyebrows for the Sake of Prada
The nearly unrecognizable model is taking her return to high fashion seriously.
---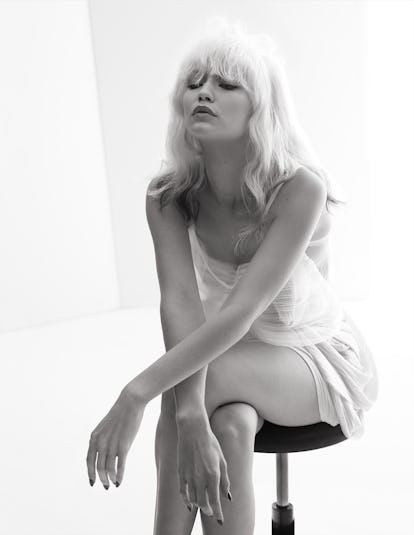 Photograph by Mert Alas and Marcus Piggott; Styled by Carlos Nazario.
"What is Gigi Hadid doing there? ?," read one comment on a post that Prada Instagrammed of its women's and menswear spring/summer 2019 campaigns photographed by Willy Vanderperre, which the house says are fragments of an upcoming series of short films. It may sound a bit rude, but it's a fair question: The rest of the campaign's cast is classic Prada, including Miuccia Prada's longtime favorite Freja Beha Erichsen, who's been modeling for the house since 2005, and Anok Yai, who last year became the first black model to open a Prada show since Naomi Campbell in 1997.
But just like at the beginning of her career, when she was bullied for not fitting the mold of a typical runway model, Hadid stands out—at least, if you happen to come across her name. Otherwise, if you take a look at the campaign images, you'd be hard-pressed to recognize Hadid, who's outfitted in an oversize pink headband, topped off with Twiggy-esque mascara and a choppy, forehead-friendly hairstyle previously favored by Emma Watson, which certain corners of the internet have come to describe as "TERF bangs." (The acronym stands for "trans-exclusionary radical feminists," or those who espouse feminism but only recognize cisgender women as "real" women—a viewpoint which, to be clear, Hadid has never been associated with.)
Hadid's usual luscious blonde locks aren't the only thing missing from the picture: There's also the matter of her eyebrows, which appear not to have made it into the campaign's final cut.
Technically, Hadid's eyebrows are still there; they're simply camouflaged by a nearly imperceptible treatment of bleach and makeup. It's certainly a testament to the lengths she's willing to go to for the house, which has long been known for its notoriously cut-throat casting, to the point that walking one's first Prada show—particularly as an exclusive—is often seen as a milestone that makes a model's career. (And one that, historically, they have a much better chance of hitting if they're young, white, and rail-thin.) Seeing as Hadid has previously walked for Prada's sister brand, Miu Miu, it seems likely that Hadid might soon be hitting that Prada milestone—and perhaps even pivoting back to high fashion, having finally bid adieu to her seemingly endless contract with Tommy Hilfiger.
Whether or not she does end up making a cameo at Milan Fashion Week, it seems like we can count on one thing in her future: that we'll be seeing more—er, less—of her eyebrows in 2019, given that this is the second time she's concealed them in weeks. (They also got the bleach treatment for her stint as Debbie Harry last month, on the cover of W.)
Related: Gigi Hadid and Zayn Malik Will Tell You About Their Relationship Status When They Feel Like It
See Gigi Hadid's Best Beauty Looks of All Time
At 16 years old, Gigi Hadid steps into the limelight and returns as a Guess girl (where she modeled as an infant) at the People StyleWatch Denim Party, with a natural wave and subtle winged liner.

GETTY
The green-eyed beauty steps out to celebrate at the W magazine X Guess party in January 2013 with a sleek bun and a fresh face.

GETTY
Becoming an overnight sensation thanks to her Tom Ford campaign, Hadid rocks fresh blonde locks, a golden eyelid, and nude lip at the American Music Awards in November 2014.

GETTY
Hadid rocks the "no makeup" look keeping her hair side-parted in soft curls at the God's Love We Deliver, Golden Heart Awards in New York in October 2014.

GETTY
As the newest face of Maybelline, Hadid shows up in a sleek side pony, creamy skin and a dark smokey eye to celebrate the beauty brand's 100th Year Anniversary in May 2015.

GETTY
At the American Music Awards in November 2015, Hadid tucks away the long locks and steps out in a faux bob, natural face, and nude lip.

GETTY
Rocking the ultimate Cali-girl look, Hadid glows at the MTV Video Music Awards in August 2015 with sun-kissed skin, swept back hair, and a "barely there" makeup look.

GETTY
Wearing her hair in naturally tousled waves with a playful cat eye and a nude lip, Hadid attends the Harper ICONS Party in September 2015.

GETTY
Hadid wears her hair in a tousled up do with loose curls framing her face and sleek cat eye at the The Daily Front Row's 1st Annual Fashion Los Angeles Awards in January 2015.

GETTY
Celebrating her 21st birthday in April 2016, the supermodel shows off her sultry side with a smokey brown eye and dark berry lip.

GETTY
At the 2016 American Music Awards that November, Hadid wears her hair swept back in loose curls with a taupe smoky eye and a coral pink lip.

GETTY
Hadid stuns in red as she hosts the iHeartRADIO Music Video Awards in June 2016, wearing a coral lip, soft shimmered eye, and a perfectly tousled long braid.

GETTY
Hadid radiates at The Fashion Awards 2016 December in London with a sleek bun, a frosted silver smoky eye and luminous skin.

GETTY
At the Victoria's Secret Fashion Show photo call in Paris in November 20"16, Hadid wears her hair side-parted in polished, tousled curls with a smoky cat eye and a nude pink glossy lip.

GETTY
Hadid poses at the Tommy Hilfiger Flagship store in London in February 2017 wearing her hair middle-parted in a sleek low pony with a subtle golden smoky eye and nude lip.

GETTY
Celebrating her Messika jewelry collaboration in September during Paris Fashion Week, Hadid sports a sleek high top knot with luminously radiant skin and silver smokey eye in September 2017.

GETTY
Supporting mother Yolanda Foster at the premiere of her new show Making A Model With Yolanda Hadid in January 2018, Hadid steps out in swept over side curls and an exaggerated cat eye.

GETTY
Gigi Hadid attends the HBO New York Premiere of 'Being Serena' at Time Warner Center on April 25, 2018 in New York City with a gothic plum lip.

GETTY
Gigi Hadid is seen walking in Soho on October 11, 2018 with a frosted blue eye.

GETTY
Gigi Hadid attends the world premiere of "Ocean's 8" at Alice Tully Hall at Lincoln Center with a head full of curls.

GETTY
Gigi Hadid seen on the streets of Manhattan on October 23, 2018 in New York City. Photo courtesy of Getty Images.

GETTY
Gigi Hadid attends as Marc Jacobs, Sofia Coppola & Katie Grand celebrate The Marc Jacobs Redux Grunge Collection and the opening of Marc Jacobs Madison on December 03, 2018 in New York City. Photo courtesy of Getty Images.

GETTY
Gigi Hadid walks the red carpet ahead of the 2019 Pirelli Calendar launch gala at HangarBicocca on December 5, 2018 in Milan, Italy. Photo courtesy of Getty Images.

GETTY
Gigi Hadid on February 11, 2019 in New York City. Photo courtesy of Getty Images.

GETTY
Model Gigi Hadid attends Variety's Power Of Women: New York at Cipriani Midtown on April 05, 2019 in New York City. Photo courtesy of Getty Images.

GETTY