Golden Globes 2018: Keep an Eye on Best Actress in a TV Comedy or Musical, the Year's Most Exciting Race
With so many funny women arriving on the scene, the category is a genuine toss-up.
---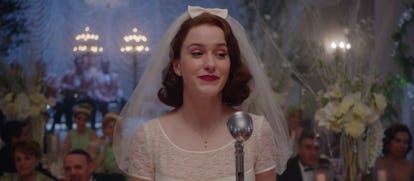 Amazon Studios/YouTube
The Golden Globes is the awards season's best party, and thanks in part to the fact that television and film stars alike—these days, pretty much the same crowd—can bump elbows with a glass or six of champagne, almost without fail it becomes a night with some genuine surprises. The ceremony has a history of awarding underdogs and newcomers in multiple categories, but what will happen when every nominee in one category is either an unsung or relatively new talent? This year the award for Best Performance by an Actress in a Television Series, Musical or Comedy could genuinely be a toss up—it's a solid mix of genuinely funny women who all star in shows that tend to be criminally overlooked by a large enough portion of the TV viewing population (with the exception of Insecure, whose viewership is just over the one million mark per episode), but beloved by the fans who haven't. With each series focusing on an underdog woman in a world that won't take her seriously, it seems that in 2018, it is exceptionally difficult to preemptively pin down which actress The Hollywood Foreign Press Association will choose to win.
Not to mention this category loves to award a whimsical wild card—just look at Gina Rodriguez, who won the award in 2015 for her performance of the titular character in The CW's Jane the Virgin, and Rachel Bloom, who won in 2016 for the nuanced Rebecca Bunch in Crazy Ex-Girlfriend (which has been named the least watched scripted television show for the third year in a row, but has an exceptionally devoted fandom). Tracee Ellis Ross won for black-ish last year, and it was a historic moment for the actress and the category, as Debbie Allen was the last black woman to win in 1983. Each and every one of the women nominated this year for this category delivered a phenomenal, witty performance that either pushed the envelope or was just purely laugh-out-loud funny, and would be deserving of the award, and if history is anything to go by, this category should be a true toss-up.
Pamela Adlon, and her performance as an acerbic working single mother on Better Things, which she created, probably deserves to win. The intensity of her mother-daughter scenes in Season 2, which ran both darker and deeper, can emotionally lacerate you in a way that almost makes Saoirse Ronan and Laurie Metcalf's Lady Bird fights feel slight. And though this is her first time being nominated for a Golden Globe, Adlon has been acting since her teen years on The Facts of Life, and as the voice of Bobby Hill on King of the Hill. It's about time.
The only nominee this year to return to this category is Insecure's Issa Rae, who was nominated last year but lost to Tracee Ellis Ross. In its second season, Rae took her character (also named Issa, although she insists that's where the similarities end) to new depths in her discovery of how to live, work, and date in Los Angeles. Amazingly, Alison Brie—who dominated both the prestige drama and comedy spheres as Trudy Campbell on Mad Men and Annie on Community at the same time—has never been nominated for a Golden Globe until now, for her performance as a struggling actress turned wrestler on Netflix's 80's period comedy GLOW.
Then there's Rachel Brosnahan, whom we should really look out for, and the unfailingly colorful performance she gives as the titular Mrs. Maisel in The Marvelous Mrs. Maisel. Midge Maisel finds her voice in an unlikely place, the downtown comedy clubs and baskethouses in late 1950's New York, but Brosnahan was born to play the part—with the signature Amy Sherman-Palladino pace, sweetness, a bit of an edge, and just enough wackiness. Frankie Shaw of SMILF, the semi-autobiographical series she created, wrote, directed and starred in about a scrappy single mother in Boston, is the other dark horse of the race. A surprisingly gritty and stealthily subversive feminist comedy, SMILF is just under the radar enough that a win for Shaw could really be the one to shock audiences for the evening. She could be this year's Rachel Bloom.