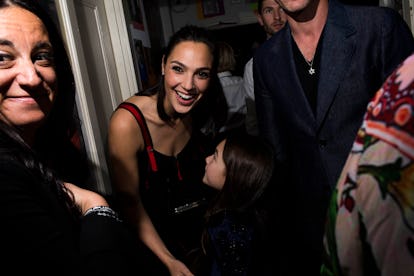 Landon Nordeman
Awards season is officially here.
Luminaries from the world of art, fashion, and film gathered in Los Angeles on Thursday night for a cocktail party celebrating W's 'Best Performances' portfolio and the Golden Globes, with partners Audi, Dior, and Dom Perignon, kicking off the festivities leading up to 75th annual Golden Globe Awards on Sunday. Taking over the entire sixth floor of the Chateau Marmont hotel, including the infamous Howard Hughes penthouse, the walls has been plastered with colorful collages of Juergen Teller's images from the portfolio and bedrooms transformed into screening rooms showing behind the scenes outtakes.
As guests poured into the party Three Billboards Outside Ebbing, Missouri star Sam Rockwell, nominated for Best Supporting Actor, caught up with James Franco, who is up for a Best Actor award for his film The Disaster Artist, in the corridor causing a major traffic jam. Out on the moonlit terrace platinum-haired Brits Emilia Clarke and Andrea Riseborough sipped on Dom Perignon poured from huge Jereboams and nibbled on sliders and pigs in blankets while ladies lined up to take selfies with Wonder Woman star Gal Gadot. Director Gia Coppola arrived with her mother Jacqui Getty, mingling with an eclectic crowd that included fashion designers Peter Dundas and Tommy Hilfiger, LACMA director Michael Govan, comedian Aziz Ansari, and Duran Duran's John Taylor and Nick Rhodes.
Go Inside W's Best Performances Party With Gal Gadot, James Franco, And All of Your Favorite Celebrities
Tracee Ellis Ross at W's Best Performances Party to celebrate the Golden Globes at the Chateau Marmont in Los Angeles, California on Thursday, Jan 4th.

Landon Nordeman
Gal Gadot and Brooklynn Prince at W's Best Performances Party to celebrate the Golden Globes at the Chateau Marmont in Los Angeles, California on Thursday, Jan 4th.

Landon Nordeman
James Franco and Brooklynn Prince at W's Best Performances Party to celebrate the Golden Globes at the Chateau Marmont in Los Angeles, California on Thursday, Jan 4th.

Landon Nordeman
Hong Chau, dressed in Dior, and Salma Hayek at W's Best Performances Party to celebrate the Golden Globes at the Chateau Marmont in Los Angeles, California on Thursday, Jan 4th.

Landon Nordeman
Mary J. Blige at W's Best Performances Party to celebrate the Golden Globes at the Chateau Marmont in Los Angeles, California on Thursday, Jan 4th.

Landon Nordeman
Ashley Olsen at W's Best Performances Party to celebrate the Golden Globes at the Chateau Marmont in Los Angeles, California on Thursday, Jan 4th.

Landon Nordeman
Emilia Clarke at W's Best Performances Party to celebrate the Golden Globes at the Chateau Marmont in Los Angeles, California on Thursday, Jan 4th.

Landon Nordeman
Elizabeth Olsen at W's Best Performances Party to celebrate the Golden Globes at the Chateau Marmont in Los Angeles, California on Thursday, Jan 4th.

Landon Nordeman
Sam Rockwell at W's Best Performances Party to celebrate the Golden Globes at the Chateau Marmont in Los Angeles, California on Thursday, Jan 4th.

Landon Nordeman
Zoey Deutch dressed in Dior at W's Best Performances Party to celebrate the Golden Globes at the Chateau Marmont in Los Angeles, California on Thursday, Jan 4th.

Landon Nordeman
Aziz Ansari at W's Best Performances Party to celebrate the Golden Globes at the Chateau Marmont in Los Angeles, California on Thursday, Jan 4th.

Landon Nordeman
Chyna Layne and DeWanda Wise at W's Best Performances Party to celebrate the Golden Globes at the Chateau Marmont in Los Angeles, California on Thursday, Jan 4th.

Landon Nordeman
Brooklynn Prince at W's Best Performances Party to celebrate the Golden Globes at the Chateau Marmont in Los Angeles, California on Thursday, Jan 4th.

Landon Nordeman
Guests at W's Best Performances Party to celebrate the Golden Globes at the Chateau Marmont in Los Angeles, California on Thursday, Jan 4th.

Landon Nordeman
Guests at W's Best Performances Party to celebrate the Golden Globes at the Chateau Marmont in Los Angeles, California on Thursday, Jan 4th.

Landon Nordeman
Caitriona Balfe dressed in Dior at W's Best Performances Party to celebrate the Golden Globes at the Chateau Marmont in Los Angeles, California on Thursday, Jan 4th.

Landon Nordeman
Kathryn Newton at W's Best Performances Party to celebrate the Golden Globes at the Chateau Marmont in Los Angeles, California on Thursday, Jan 4th.

Landon Nordeman
Stephen Galloway at W's Best Performances Party to celebrate the Golden Globes at the Chateau Marmont in Los Angeles, California on Thursday, Jan 4th.

Landon Nordeman
Michelle Monaghan at W's Best Performances Party to celebrate the Golden Globes at the Chateau Marmont in Los Angeles, California on Thursday, Jan 4th.

Landon Nordeman
Princess Olympia of Greece dressed in Dior at W's Best Performances Party to celebrate the Golden Globes at the Chateau Marmont in Los Angeles, California on Thursday, Jan 4th.

Landon Nordeman
James Franco in Dior Homme at W's Best Performances Party to celebrate the Golden Globes at the Chateau Marmont in Los Angeles, California on Thursday, Jan 4th.

Landon Nordeman
James Franco and Emilia Clarke at W's Best Performances Party to celebrate the Golden Globes at the Chateau Marmont in Los Angeles, California on Thursday, Jan 4th.

Landon Nordeman
Elizabeth Olsen at W's Best Performances Party to celebrate the Golden Globes at the Chateau Marmont in Los Angeles, California on Thursday, Jan 4th.

Landon Nordeman
Cami Morrone at W's Best Performances Party to celebrate the Golden Globes at the Chateau Marmont in Los Angeles, California on Thursday, Jan 4th.

Landon Nordeman
At W's Best Performances Party to celebrate the Golden Globes at the Chateau Marmont in Los Angeles, California on Thursday, Jan 4th.

Landon Nordeman
While old friends reconnected, new friendships were also formed, "Its my first time at the awards and I'm a fan of everyone," said Golden Globes nominee Hong Chau. "It's so fun to be in really tight quarters with people—I just met Salma [Hayek] and we are mutual fans of each other." The pair promptly spent the evening discussing their respective roles in Downsizing and Beatriz At Dinner. "I loved her so much," Hayek said of her title character in the dinner party satire. "She had no sense of humor, the poor thing, but everything about her was kind of pure."
Another hot topic of conversation was inevitably the Time's Up initiative's call for attendees to wear black attire at Sunday's Globes. "I wish I could wear the same black suit to every single event," said Elizabeth Olsen, who attended the party with boyfriend Robbie Arnett and sister Ashley Olsen. "So I think I'm going to start doing that anyway." Stylist Arianne Phillips, who designed the Time's Up initiative logo at the behest of Reese Witherspoon, was suitably attired in head-to-toe black, as was Get Out star Allison Williams, dressed in a black, two-piece Guy Laroche skirt suit. "I think it's going to feel powerful [on Sunday]," she said. "And I can't imagine a better time to stand in solidarity with with our fellow actors and actresses."
Singer and Mudbound star Mary J. Blige accessorized her all-black look with a giant Versace medallion necklace. "I feel so grateful, honored and humbled this year," she said of her Golden Globe nomination in the Best Supporting Actress category. "It really keeps you focused. This Sunday it's all about thinking positive, standing with all the women there and being beautiful from the inside out."
Related: Elizabeth Olsen and Allison Williams Talk Golden Globes's "Powerful" Black Dress Code at W's Best Performances Party
James Franco Reveals Tommy Wiseau Originally Wanted Johnny Depp to Play Him In "The Disaster Artist"