Gal Gadot, Emma Stone, Margot Robbie, and More Are the Best Performances of the Year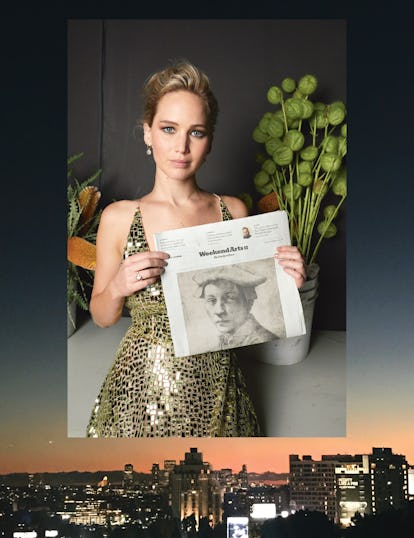 Photographs by Juergen Teller; Styled by Edward Enninful
From the inauguration of Donald Trump to the horrifying revelations about Harvey Weinstein and other alleged sexual predators, Hollywood, like the rest of the world, could not escape the barrage of often shocking daily news. In the midst of all that noise, some strong, positive voices emerged, and, happily, many of those voices were female. Last June, Wonder Woman, starring the glorious Gal Gadot, broke worldwide box office records. The film, which was directed by Patty Jenkins, brought women, young and old, to tears when Wonder Woman takes over the battlefield. As 7-year-old Brooklynn Prince, the irresistible star of The Florida Project, a gritty look at the dark side of the American dream, told me, "I started crying because Wonder Woman shows that you don't need help from a man to be who you want to be or do what you want to do."
It was a message that echoed throughout the year. Films like Lady Bird, starring Saoirse Ronan as a Catholic high-school girl in Sacramento, California, longing for a bigger life; Battle of the Sexes, which starred Emma Stone as the defiant tennis player Billie Jean King; and A Fantastic Woman, featuring the transgender actress Daniela Vega as a woman who loses her older lover and must fight for her identity, all focused on the complicated struggles and personal triumphs of their female protagonists.
Other actresses also shined: Margot Robbie was completely transformed as the twisted Olympic ice-skater Tonya Harding in I, Tonya; the glamorous Mary J. Blige disappeared seamlessly into the role of a sharecropper's wife in Mudbound; and in Molly's Game, Jessica Chastain went Kardashian-esque as the high-stakes "Poker Princess" Molly Bloom. Rarely has Hollywood given such a huge spotlight to the complexity of women's lives.
Of course, there were also wonderful performances by men. It was a game-changing year for Robert Pattinson, who was nearly unrecognizable as a mentally ill criminal in Good Time, as was the great Richard Gere, who challenged himself by playing the oddball title character in Norman. Daniel Kaluuya gave a breakout performance in the runaway hit Get Out, and Timothée Chalamet revealed himself as the next huge star in Call Me by Your Name. There were fantastic surprises: James Franco was mysterious and peculiar as Tommy Wiseau, the character he played in The Disaster Artist, and Jake Gyllenhaal elevated Stronger from the standard recovery-from-tragedy drama to something bordering on spiritual.
The Movie Issue is our annual celebration of the beautiful, the challenging, and the thrilling. The point, especially this year, is to cut through the rancor and understandable anxiety we're going through, and focus on the work. Here, we are offering 29 excellent reasons to go to the movies—and a moment to reflect on a world in transition. The hope is that increased honesty will lead to positive change. Perhaps the most vital reminder of what is possible comes from Gary Oldman's majestic performance as Winston Churchill in Darkest Hour. As portrayed by Oldman, Churchill is an outsider and roundly disliked. And yet, his inherent, stubborn message is to be bold, to be brave, to never give up the fight. And let's not forget: Like Wonder Woman, Churchill won the war.