Gucci Model Hari Nef's Self-Care Consists of Never Using a Facial Cleanser
That, and more beauty tips from the transgender icon.
---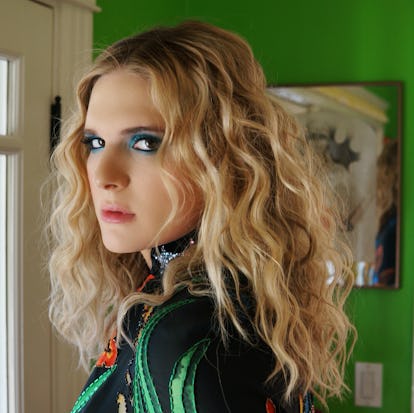 @harinef
From her 2015 debut on the New York Fashion Week runways to her turns on the big screen, Hari Nef, the transgender model, actress, activist, and face of Gucci's latest fragrance, Bloom, has made quite a name for herself. The 25-year-old is known for her eccentrically natural style, and she has a beauty and skincare routine to match, firmly believing that your medicine cabinet should be kept as empty as possible. From her love of organic skincare products to her best nutritional tips, here, Nef shares her self-care tips.
Your look in three words: Climactic, minimal, mean.
Medicine cabinet snapshot: You would probably find a mix of top-shelf skincare products with lots of chemicals in them that I used three times and then never used again. Then you would find a lot of nearly empty bottles of organic, plant-based, all-natural products. These are the products I have found myself using every day, and I have tried everything. Brands like RMS Beauty and Kat Burki are my skincare heroes. In the center of my cabinet you will always see a powder pink bottle with a white label—this is, of course, Gucci Bloom, my one and only fragrance.
Good skin starts with: RMS Beauty's Beauty Oil has been the product that I have used most consistently on my skin throughout my entire modeling career. I have also been using Kat Burki's oil.
Best advice from your facialist: I get a facial maybe a couple of times a year. I like to let my skin breathe, I don't like to stress it out. I don't like to put it through very much. The medication that I take gives me well-balanced skin.
Makeup miracles: Gucci has this really beautiful makeup line that lends itself both to very natural looks and to a more built-up, glamorous look. There are some really great Gucci red lipsticks and pencils that I love. If I'm doing my makeup myself, I tend to keep it simple. The farthest I will go is a smoky eye or a red lip. When I'm working with professionals, I feel more comfortable with experimenting. I think the skin is the most important part of a strong makeup look, and if you take care of that, the rest will follow.
Most underrated product: I'm really into mixing drug store products with luxury top-shelf makeup products. There is a L'Oréal Magic Lumi Primer that comes out in this crazy orangey-red color that I like to mix with a BB cream and then just slather it all over my face. There's also a Maybelline Dream Cushion Foundation, which gives unexpectedly solid coverage.
Never leave the house without: My everyday five-minute look is a mix of illuminating primer and a BB cream with some lip gloss, maybe some very subdued blush, nothing on the eyes, and a spritz of Gucci Bloom. I am really into coconut oil–based lip glosses right now.
A good hair day starts with: A good hair day is usually close to when I wash it, because I only wash it twice a week, so you have those good days, and then you have those greasier days when you have to dry shampoo. I'm on a never-ending quest for one. Now I'm using the R+Co Death Valley Dry Shampoo ($30,bloomingdales.com). I'm friends with the person who designs all of the beautiful bottles, so I enjoy seeing her work every day when I am doing my hair.
My hair colorist always says: I just went blonde in August, and I haven't touched it since. I will probably have to get a touch up at some point, but I could maybe go another one or two months without doing anything to it, which would almost be a four- or five-month turnaround. I was told to only wash my hair a maximum of two times a week. Shampoo is not really a part of my life anymore. There's a cleansing milk that I use, which functions as a low-hydration conditioner, and then there's a rich conditioner that I use in conjunction with that.
Beauty from the inside out: I think everything follows from sleep and water. If you are getting a minimum of six to seven hours of sleep and are drinking your minimum of eight glasses of water a day, that goes a long way, both in your body and your mind. I am a huge advocate of focusing just as much on mental health as on physical health. I am an advocate of therapy, and I am an advocate of self-care. I don't look at my body and my mind as separate—I look at them as the same thing, and I try to take care of them as best I can.
Exercise obsession: My trainer Mario Hernandez is pretty much my only motivation to work out. He's a career boxer, and he kicks my ass!
Drink of choice: Water all day until I can't drink any more, plus juices with ginger.
Product that you picked up from the pros: Bioderma Sensibio H2O is the best makeup remover.
Your favorite fragrance: Gucci Bloom Acqua di Fiori ($112, macys.com).
Appointment you'd love to nab: For color, Aura Friedman and Tim Rogers at Sally Hershberger, and for cut, Jimmy Paul at Bumble and bumble.
TSA-friendly essentials: Pretty much any bottle of beauty oil or serum will be small to enough to get through TSA. Oils are my key to keeping my skin hydrated while flying. My favorites are RMS Beauty Beauty Oil and Kat Burki Power Trio Radiance Oil ($125, net-a-porter.com).
In-tub must-read: What Purpose Did I Serve in Your Life, by Marie Calloway.
Best advice from mom: WIIFM: What's In It For Me?
Best-kept beauty secret: Never washing my face with cleanser, and washing my hair a maximum of twice weekly.
Beauty myth you'd like to debunk: I think there is a misconception around "beauty" practices that effort leads to results—lots of treatments, lots of products. I try to keep my medicine cabinet as empty as possible. Also, in the words of Freckle, "Sometimes things that are expensive are worse!"