Helmut Lang's New Limited-Edition Cowboy Boots Are Almost Too Artful to Walk In
The artist Sarah Morris, who collaborated with the brand, painted each pair by hand.
---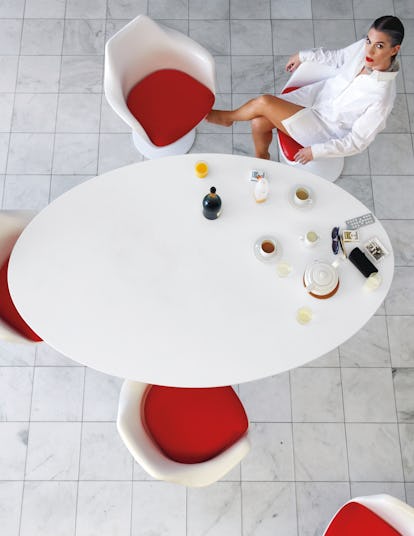 Jason Schmidt
In 1993, a year before the New York Times declared him to be "one of the most imitated modern designers," Helmut Lang sent models down his runway in cowboy boots that he splattered with paint. Now, 25 years later, the label is paying homage to Lang's irreverence by releasing 25 limited-edition pairs of traditional cowboy boots, all of which appear ready-made, but were in fact hand-painted, dipped, and stamped by the artist Sarah Morris.
By the time Lang retired in 2004, having sold his company to Prada in exchange for life as an artist, he'd already changed fashion forever with his minimalist, utilitarian designs, and also reinvigorated its relationship to the art world by teaming up with artists like Louise Bourgeois and Jenny Holzer. That legacy has lasted even after his departure, ever since the label "reset" itself last year, thanks in some part to Hood by Air's Shayne Oliver. More recently, the reins were handed over to Alix Browne, formerly of W and the label's second-ever editor in residence, who is relaunching Helmut Lang Jeans by tapping the artist Sarah Morris.
Morris is well aware of Lang and his past. "I was in New York in the '90s," she said matter-of-factly on a recent morning. In fact, the year that Lang was splattering cowboy boots, elsewhere in the city Morris had rented a studio on 42nd Street and was using what was around her, filming and painting abstractions of the neighborhood to create her "Midtown" series. Now she's revisiting that approach in collaboration with Helmut Lang. "We just basically used the tools I always use for the paintings, and then applied them to the cowboy boots," she explained. "Though the tape I work with is an automotive tape, so it's sort of funny to go from the car to the foot."
Despite the fact that she was working with boots by Nocona—a heritage western footwear brand with the slogan Let's Rodeo! that was founded by a woman entrepreneur in 1925 (even more of a rarity then)—they soon ended up being an extension of her work. The colors she chose (reddish orange, light pink) were hues she already had in her studio, having been a part of her color palette (and, in the process, gotten all over her clothes and shoes) for years. (Proof of that will soon be on view in Morris's upcoming exhibition at New York's Petzel Gallery, which opens November 1.)
Morris did, however, make one marked departure from her usual process. "We kept listening to that Nancy Sinatra song 'These Boots Are Made for Walkin' ' as we made them," she said with a laugh. If you become one of the lucky owners of the boots when they launch on October 25, though, you might want to be careful where you take them for a walk; intended as collector's items, each pair goes for $1,500 a pop.
Related: A Very Rare Helmut Lang Interview About Fashion, From the Front Row to Birkin Bags