Sharon Tate's Sister Calls Hilary Duff's Portrayal of Her "Tasteless" and "Exploitative"
Debra Tate minced no words in calling out Hollywood's recent obsession with her sister's murder: "It's classless how everyone is rushing to release something for the 50th anniversary of this horrific event."
---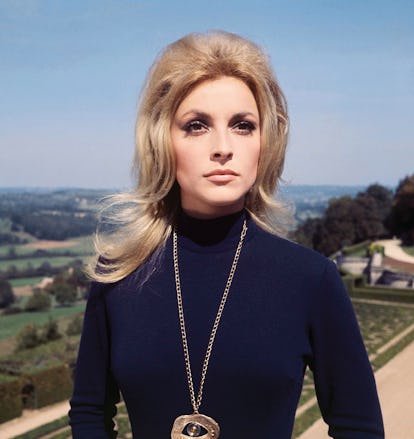 Sharon Tate: Recollection by Debra Tate.
Other than starring in the TV Land series Younger, Hilary Duff has been largely missing from the public eye for the last few years as an actress, with her most notable movie role dating back to 2003's The Lizzie McGuire Movie. But Hilary Duff, the actress, is back and making waves ever since the confirmation this week that she'll be playing Sharon Tate in Skyline Entertainment's upcoming psychological horror film The Haunting of Sharon Tate.
Written and directed by Daniel Farrands, who seems to specialize in horror, the film also stars Jonathan Bennett, aka Aaron Samuels from Mean Girls, who'll play Tate's friend and ex-boyfriend Jay Sebring, whose body police discovered at the crime scene at Tate's house with a rope connecting his neck to Tate's. (A quick, gruesome recap of what happened that night in August of 1969: Members of Charles Manson's "family" stabbed Tate, an actress and model who was married to Roman Polanski, to death when she was just two weeks away from giving birth, resulting in her death as well as those of her soon-to-be baby and the friends she'd been with that night, including Sebring.)
"I Will Not Be Silent": Hollywood's Biggest Names Pledge to Speak Their Minds:
As the 50th anniversary of the murders nears, Hollywood and the culture at large have become increasingly obsessed with revisiting the saga to the point of glamorization. The attention seems to have started in 2016, when the 20-something writer Emma Cline's debut novel The Girls, which focused on Manson's followers, ended up being a bestseller and the subject of much internet chatter. More recently, it's been announced that The Crown's Matt Smith will play Manson in Mary Harron's upcoming film Charlie Says, which focuses on the three women involved in the murders. That project will start filming shortly before the release of Quentin Tarantino's upcoming movie about the Manson family—scheduled for exactly 50 years after Tate's murders—which rumors have been swirling about since last summer.
Photos: Sharon Tate: Recollection
A photo of Sharon Tate from Stars and Stripes magazine, 1960.
Sharon Tate in Eye of the Devil, 1966.
Sharon Tate in Eye of the Devil, 1966.
Sharon Tate in The Wrecking Crew, 1968.
Sharon Tate in The Wrecking Crew, 1968.
Sharon Tate: Recollection by Debra Tate (Running Press)
As Tarantino's actions have become news thanks to Uma Thurman, the director's 2003 comments about the Roman Polanski's statutory rape of a 13-year-old girl about a decade after Tate's murder—specifically that she "wanted to have it"—have recently resurfaced, begging the question of whether he's really the right person to tell Tate's story. And, less than a week ago, Duff wasn't looking so good when it came to telling Tate's story herself: Before the rumored role was confirmed, she posted an Instagram of herself looking like Tate and holding a swaddled teddy bear, with the caption "Had the baby" and a wide-eyed emoji. (Sample comments on the post: "Yeah too bad Sharon never got to have her son. Poor taste," and "Did you fall down and smack your god damn head on the concrete?! This is post is so inconsiderate, heartless and flat out disgusting. The minute Sharon's sister Debra sees this you're going to regret it.")
Debra Tate feels the same way as those commenters, it would seem. On Wednesday, she spoke to People to express that she feels Duff's role is "classless" and "exploitative"—though she's not exactly blaming Duff herself. "It doesn't matter who it is acting in it—it's just tasteless," Tate, who was 16 when her sister was murdered, continued. "It's classless how everyone is rushing to release something for the 50th anniversary of this horrific event."
Tate was also quick to clear up some things she had a sneaking suspicion might appear in the film: the idea, for one, that her sister actually had a premonition that she and her former boyfriend would have their throats slit, which ended up being their fate—a scenario that Tate believes is the premise of the film, and that she shut down as "a total fabrication" and described as "tacky, tacky, tacky." ("It would have been nice if someone had contacted me," she added, especially seeing as she also says she owns the rights to her sister's likeness.)
Duff has yet to respond to Tate's comments—they were, after all, published less than 12 hours ago, at 1:29 a.m.—but since her initial Tate-related post, she's definitely publicly been more respectful about playing the role. Her Instagram on Tuesday confirming she would play Tate described the role as "an incredible opportunity" and "a true honor," seeing as Tate "was an amazing woman." Hopefully Farrands's film, which as of now does not have a release date, will succeed in getting that across.
Related: Leonardo DiCaprio Joins Quentin Tarantino's Manson Murder Film