The Woman Behind the Best Dressed Men In Hollywood Shares Her Festive Dressing Tips for Him
Ilaria Urbinati, who dresses Tom Hiddleston, Armie Hammer, and Bradley Cooper, details what to wear this season.
---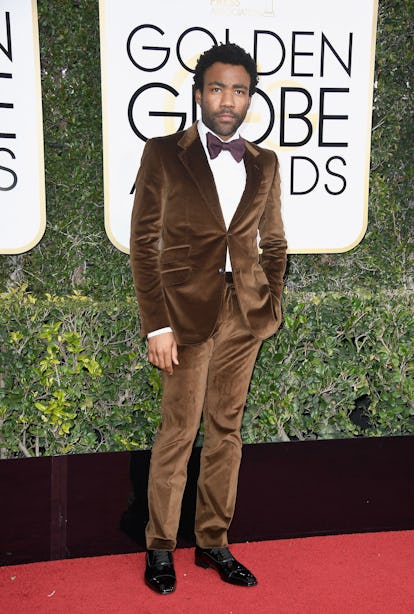 Photo by Getty Images.
Behind every great man, there is an even greater woman. For red carpet regularsBradley Cooper, Donald Glover, and Armie Hammer, this woman is celebrity stylist Ilaria Urbinati. The former retail buyer turned A-list stylist has quite the client list, often finding her work at the top of best-dressed lists across the board. This holiday season, W turned to her to offer her best advice to all the men out there on how to look their best while basking in the holiday cheer. From embracing seasonal fabrics like velvet, to sprucing up a look with some masculine jewelry, Urbinati's biggest piece of advice is to have a little fun and when in doubt you "can't go wrong with a little fair isle."
Dream clients: Bill Murray, Tom Brady, and Conor McGregor.
Biggest difference between styling women vs men: The politics of dressing men couldn't be more different than those of women where you're always just chasing that "one" sample dress. With men, it's more about working within the parameters of men's style rules while trying to break out of them just the right amount.
Best advice for men dressing for a holiday party: You can't go wrong with a little fair isle as long as it fits right. Do go easy on the plaid, though it's great under a suit. Don't be afraid of a little color. Do embrace velvet. Do go hard on the tweeds, cashmeres, and herringbones. Don't forget, as goes for the rest of the year, it's all about the fit.
Most flattering silhouette on a men: A slim two button peak or notch lapel suit will never be wrong. A nice shoulder doesn't hurt especially for winter. Unlined is great in the summer
Ideal men's holiday party outfit: For black tie, a velvet suit is gorgeous. For a more casual affair, a wool or tweed suit with a Christmas sweater or plaid shirt nails it.
Best men's accessories to pair with a party look: I'm really into men's jewelry right now. David Yurman makes my favorite men's gold chains and gold rings. The bee or lion rings are my faves.
Favorite brands to work with the past year: Ralph Lauren, Gucci, Etro, Burberry, Prabal Gurung, Prada, and Valentino.
Favorite look you styled this past year: How can I pick just one? Shailene Woodley in green velvet custom Ralph Lauren at the Emmys. Donald Glover in brown velvet Gucci at the Golden Globes. Rami Malek in all red Dior for the Met Ball. Bill Skarsgaard in Prada at the L.A. premiere of It. Tom Hiddleston in plaid Gucci at the L.A. premiere of Thor 3. Anya Taylor Joy in blue princess lionness Gucci gown at the BAFTAs.
Daily uniform: I do Muay Thai boxing first thing in the morning so I'm usually in head to toe all black boxing clothes for most of the day. My clients like to make fun of me about it
.

Favorite stores in L.A.: Polkadots & Moonbeams.
Favorite Ssores in NY: Opening Ceremony.
Style Icons: Young Jack Nicholson, Al Pacino, Sean Penn, and Elliot Gould. Angelica Houston. Winona forever.
Best recent discovery: Men's pinky rings.
Something you always travel with: ,y Eddie Bauer Limited Edition x Ilaria Urbinati faux shearling coat.
Something you'd never wear: Real fur.
Favorite accessory you own: My Lina Noel gold necklace with my daughter Wylder's name in cursive.
Recent movie I loved: Call Me By Your Name totally stole my heart. My sister did the wardrobe, my brother-in-law produced it. My client and friend Armie Hammer stars in it. I got to spend some time on set with them in Italy and it was magic.
Favorite museum: Natural History Museum in New York. The Cosmic Collision show in the Planetarium makes me cry every time.
Related: Armie Hammer and Timothée Chalamet on Call Me By Your Name, the Year's Most Sensual Love Story
Armie Hammer Loves Cooking for a Small House Party on His Birthday