Ivanka Trump Quotes Are Strangely Perfect as a Lana Del Rey Song
"My father is my father."
---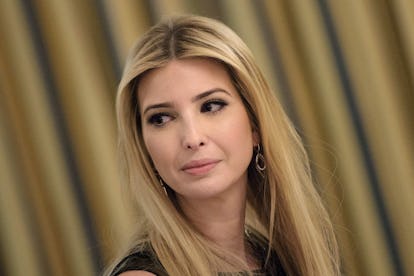 BRENDAN SMIALOWSKI
What's the difference between Ivanka Trump and Lana Del Rey? Well for one, Ivanka prefers the word "Father," while Del Rey prefers "Daddy." There's also the matter of Del Rey being no fan of Donald Trump; she even once put a witch's hex on him. Whereas Ivanka remains stubbornly loyal to her dad. Yet, singer-songwriter Amber Coffman (formerly of the Dirty Projectors and now a solo artist) decided it made sense to imagine what Ivanka Trump would sound like singing her own Lana Del Rey song. Somehow it works.
A collaboration with comedy hub Super Deluxe, Coffman and writer Nick Lutsko strung together real life Ivanka Trump quotes, in a way that are decidedly anti-Trump. Coffman then sings them in a pitch perfect Del Rey impression.
"My father is my father," goes the chorus you'll now have stuck in your head. "My father is an enormous problem for this country / but my father is my father / and it's not my place to tell him not to be who he is."
It works on many levels, not least because Del Rey burst onto the scene with an image that projected an ideal of tragically bored American princess (with daddy issues and a longing for nostalgia none the less). At the precipice of her passive patriotic princess phase, she cast herself as both Marilyn Monroe and Jackie Kennedy in her video for "National Anthem." "Money is the anthem of success," she cooed. That might as well be the Trump family's mantra.
Of course, since Trump came to office, Del Rey herself has done away with her nostalgic American imagery.
"I definitely changed my visuals on my tour videos. I'm not going to have the American flag waving while I'm singing 'Born to Die,'" she recently told Pitchfork. "It's not going to happen. I'd rather have static. It's a transitional period, and I'm super aware of that. I think it would be inappropriate to be in France with an American flag. It would feel weird to me now—it didn't feel weird in 2013."
So with Del Rey vacating her position of passive patriotic princess it only make sense for Ivanka Trump to take her place whether she wants to or not.
Though, according to two sources familiar with the situation, Ivanka Turmp and husband Jared Kushner tried their hardest to convince Coffman not to record the song. They're now moving on from the parody, and are hoping to save their political capitol to focus on convincing Scarlett Johansson not to revive her role as an Ivanka impersonator on Saturday Night Live next season.
Related: Is Ivanka Trump Purposely Staging an Image Revamp?
"Women's Rights Are Human Rights": 62 Fashion Insiders Speak Out in a Powerful Video for International Women's Day: