Jaden Smith Says He "Didn't Always Get to Hang Out With Normal People" As a Kid
He's since found a community in the skate parks of New York.
---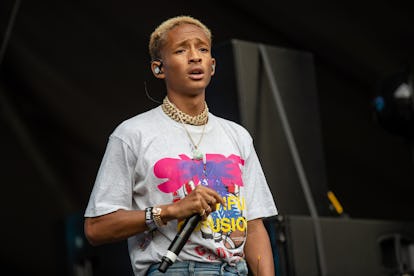 Josh Brasted/Getty Images
Growing up as a celebrity kid obviously has many perks, but it also comes with its own unique set of struggles. Just ask Jaden Smith, who revealed in a new interview with Dazed that this made it hard for him to make friends with regular, non-celebrity folks as much as he would have liked growing up.
"People treat me like I'm not a normal human so much, that you start to believe [it], like, 'Am I not a normal human?'" he told Dazed, in an article about his upcoming film about a teenage skateboarder who befriends other skater girls, Skate Kitchen, directed by Crystal Moselle. "I didn't always get to hang out with normal people when I was young. So being older and being able to hang out with the big kids and play with normal people is fun."
Smith says he has since found an accepting community within the New York skateboarding scene. "When I go to skate parks, people are like, 'Oh shit, is that Jaden Smith?' for about the first five minutes. Then after that, it's totally fine and I'm another skater," he said. "Because of this movie, people in the skating community won't be that surprised to see me at a skate park. They'll know from a friend, or a friend of a friend, that they saw me the whole summer when I was in New York shooting the movie and skating. I feel like I now have a home in the skate parks of New York."
In fact, Skate Kitchen played an instrumental role in helping him find his new clique. "I remember hearing about the project and we got a script, and I started thinking about skateboarding in New York," he told The Hollywood Reporter in January, speaking about how he'd met the film's lead, real-life pro skater Rachelle Vinberg. "I had already known [Vinberg] for, like, a year, the way that the world worked at that point in time. I was like, Wow, this must be meant to be. We had a meeting and then it was on after that; I came to New York and began skating with everybody. We would go out and skate so hard. It was beautiful."
Related: Jaden Smith on Saving the Planet, a Brand New Album, and Why Prom Was More Stressful Than the Met Gala