Jane Fonda Says She "Hates" That She Felt the Need to Get Plastic Surgery
"I wish I wasn't like that."
---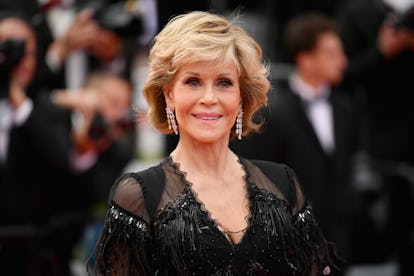 Emma McIntyre/Getty Images
Jane Fonda has always taken a no-B.S. approach to her plastic surgery. She's spoken candidly many times about her decision to go under the knife, and even when she does brush off questions about it, it's only because she feels there are much more pressing issues to discuss—looking at you, Megyn Kelly. And while Fonda continues to speak matter-of-factly about her plastic surgery in Jane Fonda in Five Acts, the upcoming HBO documentary about her life, she does express some regret at having given into the pressure to alter her appearance as she aged.
"I'm glad I look good for my age, but I've had plastic surgery," she said in the film, according to People. "I'm not going to lie about that." Fonda, 80, went on to discuss her wish that she hadn't felt like she had to get the surgery at all, whether due to societal pressures, her own self-image, or some other influence. "On one level, I hate the fact that I've had the need to alter myself physically to feel that I'm okay," she said. "I wish I wasn't like that. I love older faces. I love lived-in faces. I loved Vanessa Redgrave's face." She added, "I wish I was braver. But I am what I am."
Elsewhere in the film, the Grace and Frankie star shared a few more of her anti-aging secrets. Though she's no longer following along with her iconic high-energy workout tapes, Fonda said she still does work out, "just more slowly now." Another quality tip: Fix your posture. "When I stand up straight, it's a whole different thing," she said. In the end, though, Fonda noted, anti-aging is more of a mental game than a physical one. "Your age is less chronological and more attitudinal," she said.
Related: Jane Fonda Talks About Being a Fashion Icon