Kim Kardashian Wore Hot Pink Fur to J.Lo's Totally Normal Taco Night
Kourtney, Kris, A-Rod, and J. Lo's mom were there, too.
---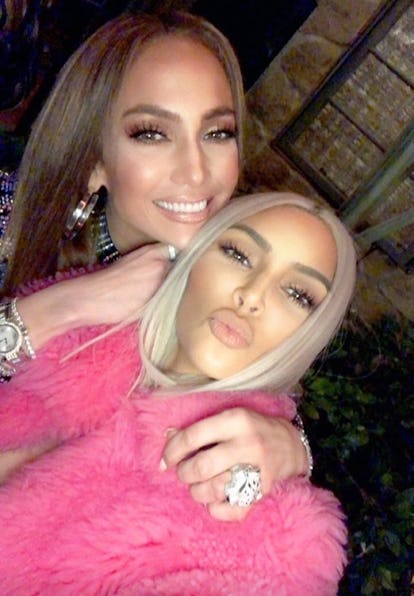 Courtesy of @kimkardashian
While Kylie Jenner is doing her best to stay under the radar, we do at least know the whereabouts of some Kardashians. On Wednesday night, Kourtney and Kim Kardashian, along with mom Kris Jenner, headed over to Jennifer Lopez and Alex Rodriguez's home in New York for a totally normal taco night. They arrived to find Lopez covered head-to-toe in sequins thanks to a glittery jumpsuit, which took even Kim by surprise. ("Who else would host a taco Wednesday in this outfit?" she mused on Snapchat.)
Kim, on the other hand, opted for a hot pink for coat that she presumably removed when she presumably actually ate the tacos; she documented what looked to be dozens of bowls of topping options on her Instagram stories. (Though no photos of her actually eating tacos exist.)
A-Rod was nowhere to be seen in Kim's documentations, though he did seem to be present, given that he posted on his own Instagram story that he and J.Lo would be having "about 100 people over tonight." With Kourtney's 24-year-old beau Younes Bendjima and Kanye West, whom Kim just anointed the "best husband," also missing, moms seemed to be taco night's guest of honor. Who knew that Kris and J.Lo's mom, Guadalupe Rodriguez, had matching pixie cuts?
It's too bad Kylie apparently wasn't there either, seeing as she has her very own taco recipe. No one, though, seems to have as much love for tacos as A-Rod, who once showed up to baseball practice with a bag from Taco Bell on a 106-degree day. Since there's no word on his exact involvement with the tacos on Wednesday, though, all the kudos definitely go to J.Lo: Thanks to a blurry still from Kim's Instagram, she was the only one actually pictured with an actual taco throughout the entire night.
Related: Where in the World Is Kylie Jenner?
J. Lo's Favorite Birthday Party Sounds Like a Movie Premiere: