Jennifer Garner and Ben Affleck's Divorce May Finally Actually Happen
Affleck's most recent rehab stint obviously took priority here.
---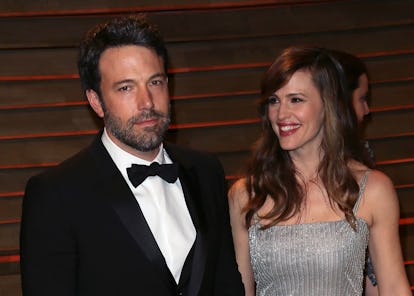 David Livingston/Getty Images
Back in August, a judge warned Jennifer Garner and Ben Affleck—who, in case you missed it, are still just as legally married as Justin Bieber and Hailey Baldwin—that they risked having their divorce revoked if they didn't get on with it and sign the papers. It seems Garner, at least, took this admonition to heart: According to E!, last month the actress requested to appoint a retired judge to oversee the rest of the proceedings. This, apparently, will speed up the whole process, as the temporary assignment will expire either in March or when the papers are signed—whichever comes first.
This request, per E!, was granted Monday—two days before Affleck announced on Instagram that he had completed his latest course of inpatient rehab. ("Battling any addiction is a lifelong and difficult struggle," he wrote on Instagram. "One is never really in or out of treatment. It is a full-time commitment.") The couple, who first filed for divorce in 2016, reached a settlement at the end of August, but an anonymous source told E! they were waiting for Affleck to get out of treatment before bringing it to court.
The move has been widely reported as an effort to "speed up" the divorce, and at this point we'd like to offer a gentle amendment: It's more like an effort to make it happen at all. Neither Garner nor Affleck seems in any particular rush to part ways legally; they've continued to share parenting duties, and by all appearances Garner has remained supportive of her ex-husband throughout his relapse. (According to People, it was she who drove him to the rehab center in Malibu in August.)
After all, they split in 2015 and filed for divorce in 2016; Affleck moved out of their shared home the following year, just before making his public debut with the SNL producer Lindsay Shookus. (They parted ways shortly before Affleck entered rehab.) And honestly, addressing Affleck's ongoing addiction struggle probably takes priority over signing some measly court papers.
Related: Surprising Trend Alert: From Jennifer Garner to Martha Stewart, Celebrities on Instagram Are Obsessed With Their Poultry