Jennifer Lopez's 10-Year-Old Daughter Emme, Who's Been Taking Meetings For Book Deals, Is Suddenly All Grown Up
She's also grown herself an impressively Ariana Grande-like ponytail.
---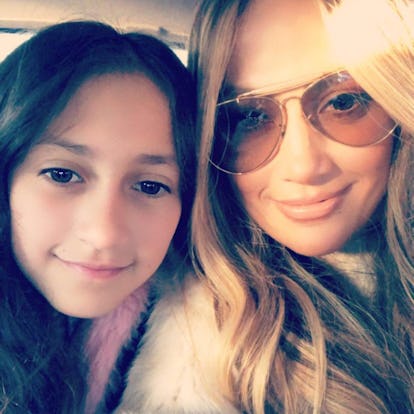 Courtesy of @jlo
Jennifer Lopez, now 48, still shows no signs of aging—so noticeably, in fact, that she's even confused about it herself. On the other hand, her twins Maximilian David and Emme Maribel Muñiz, who, now 10 years old, seem to have suddenly grown up overnight. Just a few weeks ago—a week after posting a #TBT of them hugging—she Instagrammed a current-day photo of the pair and captioned it, "My babies aren't babies anymore… but they are still my babies." (As well as still her #coconuts, as she's wont to call them.)
For what it's worth, three days later, she posted a photo of her daughter casually wearing a sports bra, an item which some preteens and teens consider something of a milestone. But that's barely worth mentioning after the Instagram Stories that Lopez posted on Thursday, which officially showcased Emme's maturity by documenting "a very special day," which consisted of taking a series of business meetings with three book publishers, shopping around an idea that Emme had for a book. Lopez does all of the talking in the video, though Emme does proudly show off her idea's mock-up, which is currently titled Lord Help Me! (Its cover features an illustration of a girl smiling and kneeling in prayer, and seems to confirm that she plans to work with the prolific children's book illustrator Ana Martín Larrañaga.)
The twins have in fact been ahead of their time since the moment they were born in 2008, when Lopez was still married to their father, Marc Anthony; just a month into their life on Earth, they became the subjects of the most expensive celebrity picture to ever exist at the time, which People reportedly paid $6 million for. (Though another set of twins overtook that title just a few months later, when People forked over even more for the exclusive first look at Angelina Jolie and Brad Pitt's then-newborns, Vivienne and Knox.) A decade later, Emme once again looked picture perfect, having pulled her hair back into an impressively Ariana Grande-like ponytail.
There's no word yet if Max is as precocious as his sister, but given Lopez's love for Instagramming her children, we'll no doubt find out soon enough—perhaps even from an Instagram of his own. We do know, however, that the two have very different tastes: When it came time to celebrate their tenth birthday earlier this year, which they did at the Sugar Factory in Las Vegas, they each got their own custom cake—one of which was Super Mario Bros.-themed, and one which featured a sloth. Lord help you guess who got which!
Related: Even Jennifer Lopez Is Confused by How Little She's Aging